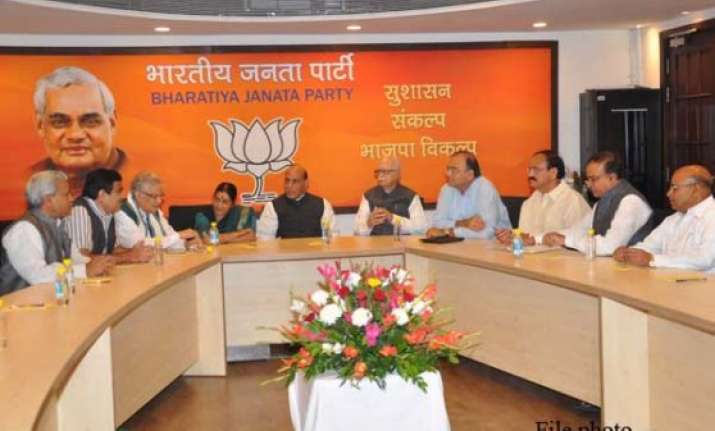 New Delhi: The BJP has claimed the support of at least 31 MLAs in Jammu and Kashmir Assembly. The claim was reportedly made in the Parliamentary  Board meeting of the party held today.
In the meeting, the party decided to explore all opportunities to form government in Jammu and Kashmir.
The Parliamentary Board also decided to send two observers each to Jammu and Kashmir and Jharkhand to finalise the names of the leaders of the legislature parties in the two states.  
READ MORE: Who will be the CM of Jharkhand?
Union Minister Arun Jaitley and senior partry leader Arun Singh will be visiting Jammu and Kashmir while Union Minister  JP Nadda and Vinay Sahasrabuddhe will go to Jharkhand.
In Jammu and Kashmir, the BJP emerged as the second largest party with 25 seats followed by PDP which won 28 seats. The NC and Congress managed to bag 15 and 12 seats respectively.
READ MORE: PDP the largest party in J&K in highly-fragmented poll verdict
The possibility of forming 'stable' government with support of NC and PDP in Jammu and Kashmir also figured during Parliamentary  Board meeting.
In Jharkhand, the BJP alliance is in a very comfortable situation to form the government on its own. The BJP won 37 seats whereas its ally, AJSU, bagged 5 seats taking the total to 42 in a House of 81 members.
Meanwhile, People's Conference leader  Sajjad Lone has supported BJP's claim for CM post. Sajjad said that the  party with  maximum number of MLAs should get the CM post. Lone, however, said that before finalizing the name, BJP should talk to its allies as well.