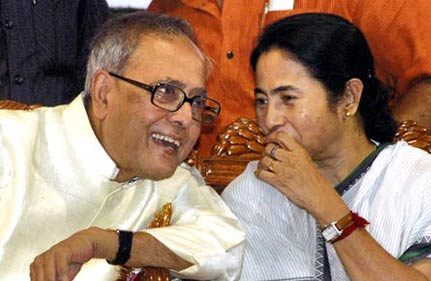 Kolkata, Nov 25: The Congress has expressed confidence that the party's alliance with the Trinamool Congress in West Bengal will strengthen its stand and would help oust CPI(M) from power.
"The situation in Bihar and West Bengal is quite different. In the last Lok Sabha election, the Congress and the Trinamool Congress fought together and the Left Front was marginalised to a great extent," WBPCC spokesman Sukhendu Sekhar Roy, known to be close to Union Finance Minister Pranab Mukherjee Roy, told PTI.
"The mood of the people in West Bengal is for change and the alliance between the two parties is a necessity to effect the change. It is the Congress which will be strengthened in case of an alliance with Trinamool Congress," he said.
He said that it was the declared policy of the Congress high command to fight the ruling Left Front in alliance and under the leadership of the Trinamool chief Mamata Banerjee.
"As far as my knowledge goes there is no change in that situation."
WBPCC president Manas, Bhunia, however, said, "We have already said that we will have an alliance with the Trinamool Congress, but not at the cost of the dignity and prestige of the Congress."
Referring to the seat-adjustment in the 2009 Lok Sabha elections which he hinted was clinched at Trinamool Congress chief Mamata Banerjee's terms, he said, "We had left 28 of the 42 Lok Sabha seats in Bengal to the Trinamool Congress. It is the turn of the Trinamool Congress now to reciprocate with prestige and dignity."
He dismissed the failure of an understanding between the two parties for the civic elections held earlier this year.
"Assembly elections are not fought on the same lines as civic polls. The issues are different."
Another PCC spokesman Arunava Ghosh, who is known in political circles as a detractor of the TC chief said, "An alliance is necessary to remove the CPI(M), but the fate of the alliance will depend on Mamata Banerjee."
On the other hand, senior Trinamool Congress leader and union minister of state for rural development Sisir Adhikari said if the Congress wanted to be politically relevant in West Bengal, "it must form an alliance with us. It must accept Mamata Banerjee as the leader." PTI