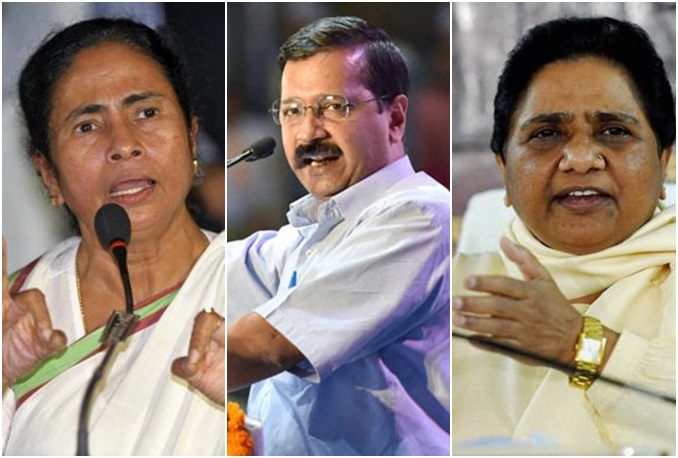 With Narendra Modi-led BJP government at the Centre making it aptly clear that it will not overturn its decision of scrapping Rs 500 and Rs 1,000 notes, several opposition parties, including Congress, TMC and Left among others, are set to file a petition to the President, setting the stage for a stormy Winter Session of the Parliament starting Wednesday.
According to reports, West Bengal Chief Minister Mamata Banerjee has initiated an effort to bring opposition parties together to take on the government in Parliament and outside over the currency ban.
About 100 opposition lawmakers, led by Mamata Banerjee, will take out a march on Wednesday from Parliament to Rashtrapati Bhawan and will file a petition to the President seeking government's notes ban decision be revoked.
"We feel the single biggest issue that we will raise in the winter session is the fallout of the demonetisation policy and the amount of inconvenience it has caused the common man," Congress party said.
Also, Delhi Chief Minister Arvind Kejriwal has called an emergency session of the assembly tomorrow over demonetization crisis.
Meanwhile, here is how various political leaders reacted on PM Modi's demonetisation move:
Mayawati: 
In the name of demonetisation, the common people are being made to suffer."
The ban was like an earthquake for poor and needy. They have been pushed in all sorts of problems
Just before UP elections, Modi has realised the problem of black money after remaining in the saddle at the Centre for two-and-a-half years … 90% people are unhappy with this decision
Modi took the decision to harass people after making his party economically strong by helping industrialists and capitalists.
Arvind Kejriwal
When the PM announced the move, he had informed all of his friends who had black money and they secured their money 
Only the common man is suffering. Those with black money are not in queue. 
The BJP people knew beforehand and BJP black money in Swiss banks, property, gold 
 
Mulayam Singh Yadav
The Modi government has slapped Emergency without sending people to jail 
The government has spread anarchy in the entire country, common man is not even able to buy daily products 
The hasty decision was taken at the behest of a few big business houses. I know their names, but won't like to reveal them 
 
Rahul Gandhi
Today is tough time for the people of the country, as the entire country is standing in queues outside banks. 
Once again Mr Modi shows how little he cares about ordinary people of this country - farmers, small shopkeepers, housewives - all thrown into utter chaos 
While the real culprits sit tight on their black money stashed away abroad or in bullion/real estate. Well done Mr Modi. 
One Q for the PM: How is replacing 1000 rs notes with 2000 rs notes going to make black money hoarding a lot harder? 
Mamata Banerjee
The PM in his speech had said the poor are sleeping peacefully. This is an insult to commoners and in bad taste 
This will be a killer for the common people. Already a staggering Rs 1.5 lakh crore of GDP has been lost by the economy in only six days