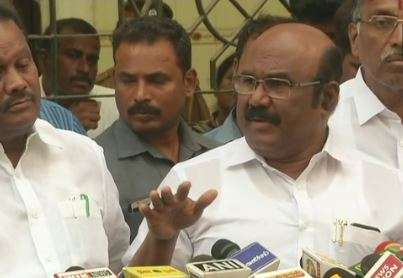 Tamil Nadu government on Sunday recommended to the state Governor Banwarilal Purohit release of seven convicts of Rajiv Gandhi assassination case. 
"Tamil Nadu cabinet recommends release of 7 convicts of Rajiv Gandhi assassination case. The recommendation will be sent to the TN governor immediately," ANI quoted D Jayakumar, a minister in AIADMK government, as saying after the state cabinet meeting in Chennai.
Catch all the latest news about Lok Sabha elections 2019 HERE
The move comes days after the Supreme Court asked the Tamil Nadu Governor to consider the mercy petition of Perarivalan seeking remission or pardon under Article 161 of the Constitution, reported PTI. 
Though the SC had asked the Governor to consider the plea of Perarivalan, the state government decided to recommend setting free all others also (Nalini Sriharan, Murugan alias Sriharan, Robert Payas, Ravichandran, Santhan and Jayakumar).
I met #TamilNadu CM today, he assured me that Governor will surely accept our recommendation & very soon all the 7 convicts will be free. We thank this govt which has paved the way for the release. Arputhammal, mother of Rajiv Gandhi assassination case convict AG Perarivalan. pic.twitter.com/wxzUeub1Qr

— ANI (@ANI) September 9, 2018
On May 21, 1991, former PM Rajiv Gandhi was assassinated at Sriperumbudur by an LTTE woman suicide bomber, Dhanu, at an election rally. Fourteen others, including Dhanu herself, were also killed.