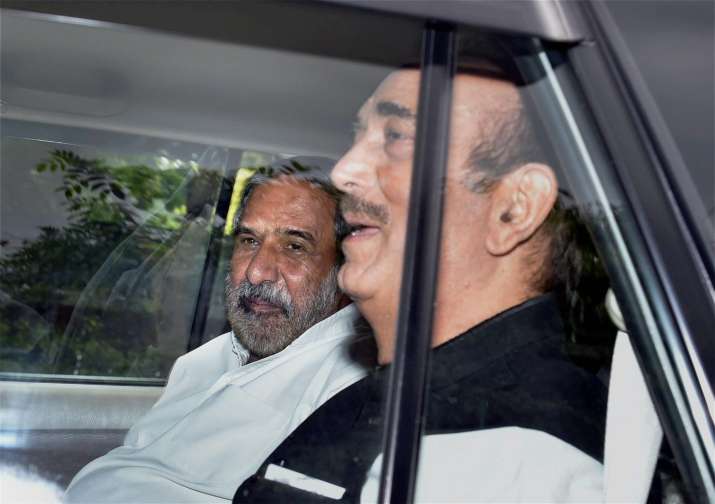 The opposition parties on Friday extended full support to the government's stand on the ongoing border standoff with China in the Sikkim sector saying they are with the government on matters of "national security".
However, the opposition leaders told senior minister of the government that they would raise the issue in the Monsoon session of Parliament beginning Monday because it was the right platform to discuss such an important issue.
The government had called a meeting of 14 major opposition parties on Friday to brief them on the border standoff with China as well as the prevailing situation in Jammu and Kashmir.
Both the government and the opposition parties agreed that the border standoff needs to be resolved peacefully and diplomatically.
The opposition leaders supported the action of Indian troops in stalling the attempt of Chinese troops to build a road through Bhutanese territory.
Former Defence Minister Mulayam Singh Yadav reportedly reminded the government that China had betrayed Jawaharlal Nehru in 1962 and added that Beijing would behave similarly with the NDA government if it let its guard down.
However, CPI(M) general secretary Sitaram Yechury reportedly asked the government to "introspect" whether its policies on the Dalai Lama, and military exercises with the US and Japan had contributed to the tensions.
In the meeting, the government was represented by Home Minister Rajnath Singh, External Affairs Minister Sushma Swaraj,  Defence Minister Arun Jaitley, and senior officials, including National Security Advisor Ajit Doval and Foreign Secretary S Jaishankar.
The meeting was attended by prominent opposition leaders like Congress's Ghulam Nabi Azad, Mallikarjun Kharge and Anand Sharma, SP's Mulayam Singh Yadav, JD(U)'s Sharad Yadav, NCP's Sharad Pawar and CPI(M)'s Sitaram Yechury.
All the parties at the meeting condemned the July 10 terror attack on the Amarnath pilgrims in Jammu and Kashmir that left seven people dead and nearly 20 injured.
The ministers insisted that the attack was not an outcome of any security lapse but it took place because the bus carrying the pilgrims was not registered with the authorities and moved much after the security forces had withdrawn from the area.