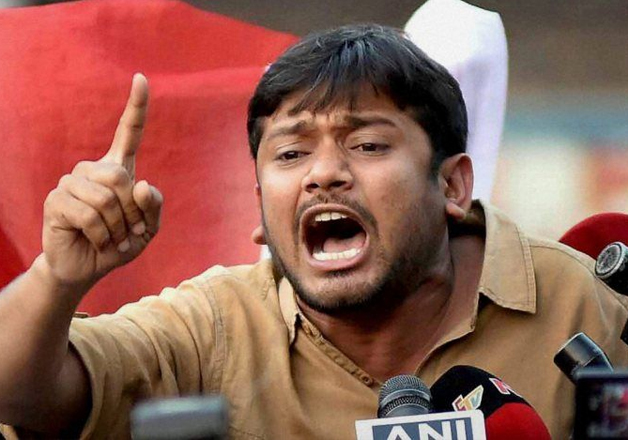 Former president of the Jawaharlal Nehru University students' union and an accused in a case of sedition Kanhaiya Kumar has called for unity among opposition parties to take on the ruling BJP government at the Centre.
Kanhaiya, who was jailed earlier this year for 17 days on charges of sedition, said that such a coming together of the Congress, the Left and parties like the AAP should be based on issues.
"Why can't (Arvind) Kejriwal, Congress, Left and Mayawati come together? There should be unity," the left-leaning activist, whose book "From Bihar to Tihar" (Juggernaut) has hit the market, said.
"These parties need to get together to defeat the Bharatiya Janata Party," he added.
A vocal advocate of Left-Bahujan unity, Kanhaiya, who hails from Begusarai district of Bihar, said an anti-BJP alliance must be based on a Common Minimum Programme (CMP) that prevailed during the Congress-led United Progressive Alliance (UPA)-I regime.
Asked about the ideological contradictions in such a grouping, Kanhaiya Kumar cited the example of South Africa where the African National Congress (ANC) and the South African Communist Party (SACP) co-exist in an alliance.
"The ANC and SACP too have differences but they work on the basis of certain commonalities," he said.
The 29-year-old was president of the Jawaharlal Nehru University Students Union (JNUSU) when he was arrested in February 2016 on charges of sedition. The dramatic arrest followed a meeting held in the JNU campus where a section of students and outsiders -- most of whom were never caught -- raised anti-national slogans.
In his book, Kanhaiya noted that most policemen who dealt with him quickly realised he had been framed.
A member of the CPI-affiliated All India Students Federation (AISF), Kanhaiya said that he is part of 'active politics' but has no desire to take part in electoral politics.
Arguing that dissent was vital in any democracy, he said that all those opposed to majoritarianism, irrespective of their different streams, have to unite.
"Today, if you speak against the government, you are dubbed anti-national," he said.