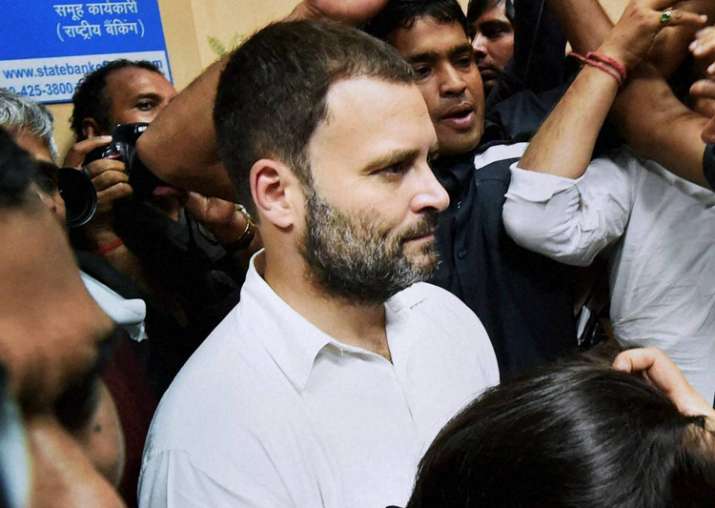 Congress vice-president Rahul Gandhi will appear before a Bhiwandi court in Maharashtra on Wednesday to face trial in a defamation case filed by the Rashtriya Swayamsevak Sangh (RSS) for allegedly blaming the Hindutva organisation for assassination of Mahatma Gandhi. 
Congress leader will be in Mumbai on Tuesday and Wednesday and the party's city unit has planned a rousing welcome for Rahul during the visit.
Mumbai Congress president Sanjay Nirupam said Rahul will reach the Bhiwandi magistrate court between 10 am and 10.30 am on Wednesday.
The case goes back to March 2014 when Rahul, in an election speech in Maharashtra's Bhiwandi, had alleged that "RSS killed Gandhiji."
"RSS people killed Gandhiji, and today their people talk of him. They are opposed to Sardar Patel and Gandhiji," he said, while addressing an election rally.
RSS activist Rajesh Kunte had later filed a defamation case against Gandhi scion.  
Bombay high court had last year declined to grant Rahul any relief in the proceedings and dismissed his plea to quash the criminal defamation case.
He then moved Supreme Court with a special leave petition (SLP) for permission to challenge the HC dismissal of his plea but later withdrew the plea. 
His counsel Kapil Sibal told the Supreme Court that he never blamed the RSS for the assassination of Mahatma Gandhi but had only said that a "few individuals in the organisation" were responsible for it. 
In a U-turn the very next week, Rahul told the apex court that he stood by his remarks and was ready to face trial for it. 
A report by the Mumbai Mirror quotes sources as saying that the party is also considering printing placards carrying the message "RSS killed Gandhi" which will be displayed by workers when Rahul's motorcade goes to Bhiwandi.
"The conviction of the Congress party is that the ideology of RSS is responsible for the assassination of Gandhi," Sanjay Nirupam said.
Earlier today, Nirupam tweeted, "We welcome Rahul Gandhi today in Mumbai and extend our full support to him in the fight against RSS." 
बापू के सम्मान में,राहुलजी मैदान में।
We welcome @OfficeOfRG today in #Mumbai & extend our full support to him in the fight against #RSS

— Sanjay Nirupam (@sanjaynirupam) November 15, 2016