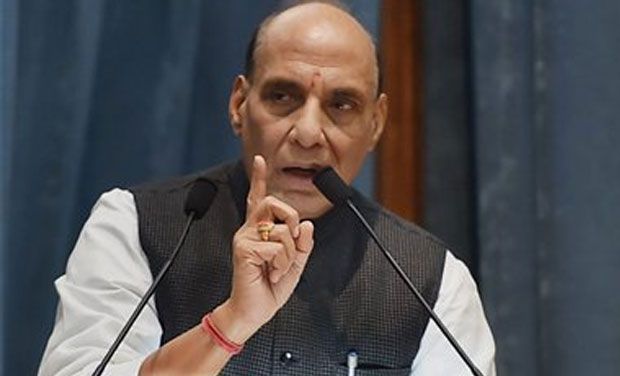 A relentless Opposition, that saw divisions over the call for a nationwide shutdown, today maintained its ante inside Parliament  with protests continuing in the Lok Sabha against the government over the demonetisation issue, forcing adjournment of the proceedings till noon. 
Soon after the House expressed its condolences over the death of Cuban revolutionary leader Fidel Castro, Oppositon members, including those from the TMC and Congress, demanded that they wanted to speak on the demonetisation issue. 
With opposition parties demanding an explanation from Prime Minister in Lok Sabha, Home Minister Rajnath Singh said, "If you want PM to come to Lok Sabha for this debate then he will come and if needed he will also make an intervention."
"We're in a fight against corruption and black money in the country. If you have a complaint on implementation then we are ready to debate, but don't doubt our integrity," he added.
With Speaker Sumitra Mahajan declining their request and saying that the matter could be taken up after Question Hour, Opposition members trooped into the Well holding placards and shouting slogans against Prime Minister Narendra Modi as well as the government. 
"No placards please... No papers," Mahajan told the protesting members and also reminded them that it was against the rules. 
Over 30 members, including from Congress, TMC and the Left parties, were in the Well while members of AIADMK were seen standing near their seats. 
Amid the din, the Question Hour went on for around 20 minutes and saw four questions as well as supplementaries being taken up. With the protests continuing unabated, Mahajan adjourned the House till noon.
Opposition parties have been stepping up their protests against the government's decision to withdraw old Rs 500 and Rs 1,000 notes and are also observing 'Jan Aakrosh Diwas' across the country today. 
Lok Sabha has witnessed a virtual washout of proceedings since the Winter Session started on November 16 due to the protests over the demonetisation issue.
Earlier today, Prime Minister Narendra Modi met with ministers in parliament amid call for nationwide protests by opposition parties.
Meanwhile, Rajya Sabha has also been adjourned till 1400 hours as uproar over demonetisation issue continues the disrupt the upper house also.
In the meeting of 18 opposition parties, we decided to hold Jan Aakrosh Diwas not Bharat Bandh. PM is responsible for Bharat Bandh, says Ghulam Nabi Azad in Rajya Sabha
A meeting of all the opposition parties, barring JD(U), was held in the chamber of Leader of Opposition in Rajya Sabha Ghulam Nabi Azad in Parliament House here and it was decided that the protests will continue till their demands are met, sources said. 
However, some fissures also appeared in the opposition as the JD(U) skipped the meeting with sources saying party leader Sharad Yadav had left Delhi early this morning. 
The opposition parties have been divided over the ways to protest against demonetisation ever since Trinamool Congress chief Mamata Banerjee decided to march to the President against it. 
While she was joined by AAP, National Conference and Shiv Sena, an NDA ally, other opposition parties stayed away. Shiv Sena has backed demonetisation but said it is unhappy over the way it was causing problems to people.