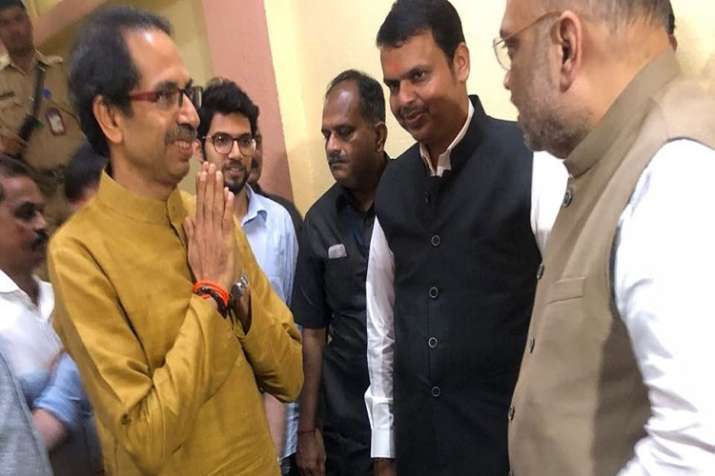 A day ahead of the no-confidence motion against the Modi government, both the BJP and the Congress-led Opposition exuded confidence of their victory. Plenty is expected to happen in Parliament on the second day of Monsoon Session on Thursday.
In a major boost for the Modi government ahead of Friday's no-trust motion, BJP's 'estranged' ally Shiv Sena has announced that it will back the Modi government. The party has issued three-line whip to its MPs asking them to be present in Lok Sabha on July 20. The announcement came shortly after BJP president Amit Shah's phone call to his Sena counterpart Uddhav Thackeray.
Union Parliamentary Minister Ananth Kumar expressed confidence that the NDA will sail through the no-confidence motion. Describing UPA chairperson Sonia Gandhi weak in maths, Ananth Kumar said the Congress was repeating the mistake it did in 1996. "The NDA is together and we'll get support from the South too," Kumar said. 
Highlights: 
06:20 pm: Lok Sabha adjourned till 11 am tomorrow.
03:15 pm: Aam Aadmi Party (AAP) issues whip to its Lok Sabha MPs, directs them to vote in favour of no-confidence motion
02:10 pm: Shiv Sena to support the Modi government during no-confidence motion moved by the Congress-led Opposition on Friday. The party has issued three-line whip to party MPs to be present in Parliament on July 20.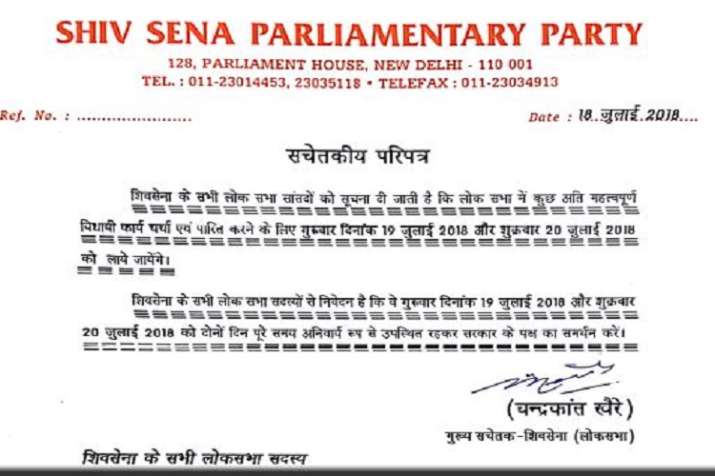 02:01 pm: Home Minister Rajnath Singh takes a swipe over Rahul Gandhi's expected speech in Lok Sabha during no-trust motion on Friday. "Let's wait for the earthquake," Rajnath told reporters. 
01:43 pm: BJP president Amit Shah speaks to his Shiv Sena counterpart Uddhav Thackeray over phone ahead of Friday's no-trust motion against the Modi government. Shiv Sena keeping cards close to its heart.
01:35 pm: Biju Janata Dal (BJD) issues whip, directs MPs to be present in Lok Sabha tomorrow for the no-confidence motion.
01:20 pm: 
The Home Minister's statement in Lok Sabha on mob lynching was not satisfactory at all, that is why we staged a walkout from the house. This is not a game of ping pong that states and Centre keep shifting responsibilities: Shashi Tharoor,Congress MP pic.twitter.com/Tn0BMCm1XA

— ANI (@ANI) July 19, 2018
12:57 pm: PM's silence on incidents of mob lynching indicates that violence-mongers have got a license to kill. Obama used to speak on every issue that his country faced, but PM never does so, says Congress leader Shashi Tharoor
12:51 pm: Congress stages walkout from Lok Sabha protesting against Home Minister Rajnath Singh's statement on mob lynching incidents.
12:21 pm: These are unfortunate incidents.We had issued an advisory on this recently, and one in 2016 also. Social media being used to spread fake news and rumours is also a reason. We have asked social sites for regulation, says Rajnath Singh
12:18 pm: We also advised social media service providers to keep a check on fake news and rumours, says Rajnath Singh
12:15 pm: Home Minister Rajnath Singh speaking on mob lynching incidents. Not once, but twice advisory was issued on such incidents, despite it being a state subject, says Rajnath Singh
12:08 pm: DMK supports the no-confidence motion brought by TDP. We request AIADMK also to support no-confidence motion in Parliament: MK Stalin, DMK Working President
12:01 pm: The government is planning to bring cement under the Essential Commodities Act to stop black marketing and prevent builders from fleecing house buyers, says Union Road Transport and Highways Minister Nitin Gadkari in Lok Sabha
11:50 am: AIADMK will not support the no-confidence motion against NDA government in Lok Sabha. "Andhra MPs have brought this for their state issue. No other party supported Tamil Nadu over Cauvery river water issue," says Tamil Nadu CM Edappadi Palaniswami.
11:25 am: Uproar during Union Minister Jayant Sinha's speech in Lok Sabha. Opposition MPs raised objections over his act of garlanding lynching accused in Jharkhand.
11: 22 am: Lok Sabha Speaker Sumitra Mahajan accepts resignations of BJD MP Baijayant Jay Panda and Jose K Mani of Kerala Congress (M) who has been nominated to Rajya Sabha. This brings the effective strength of Lok Sabha to 533.
11:17 am: BJP MP from Patna Sahib Shatrughan Sinha to vote against the no-confidence motion, reports news agency ANI.
11:14 am: Farmers of the country have been cheated. The government is cheating them over MSP of crops. One the one hand they claim to double the income of farmers, on the other hand they are committing suicide, says Congress leader Jyotiraditya Scindia
11:13 am: 
Congress MPs protest in Parliament premises, demanding rights for farmers. #MonsoonSession pic.twitter.com/oXqAEA81OF

— ANI (@ANI) July 19, 2018
11:09 am: Telugu Desam Party (TDP) MP JC Diwakar Reddy says he would not attend the Monsoon Session as he is "fed up" of his party and the Centre. TDP had moved no-confidence motion against the NDA government. "I am not going to attend the Parliament session. You can say that I violated the party whip instructions. I am fed up with Centre and our TDP government. And I am fed up with whole political system," Reddy said.
11:00 am: Congress president Rahul Gandhi may speak in Lok Sabha on Friday during the discussion over no-confidence motion moved by the Opposition against the Modi government.
This is the first no-confidence motion accepted in Parliament since August 2003. The Congress with the help of other Opposition parties had then moved a no-confidence motion against the Atal Bihari Vajpayee government but it was defeated by a huge margin. 
In a House of 535 members, the ruling National Democratic Alliance(NDA) has 313 members including 274 (including the Speaker) of BJP, 18 of Shiv Sena, six of Ram Vilas Paswan-led LJP and four from Shiromani Akali Dal(SAD).
The stated strength of the Opposition is 222, including 63 of the Congress-led UPA, 37 of AIADMK, 34 of Trinamool Congress(TMC), 20 of Biju Janata Dal(BJD), 16 of TDP and 11 of Telangana Rashtra Samithi(TRS).