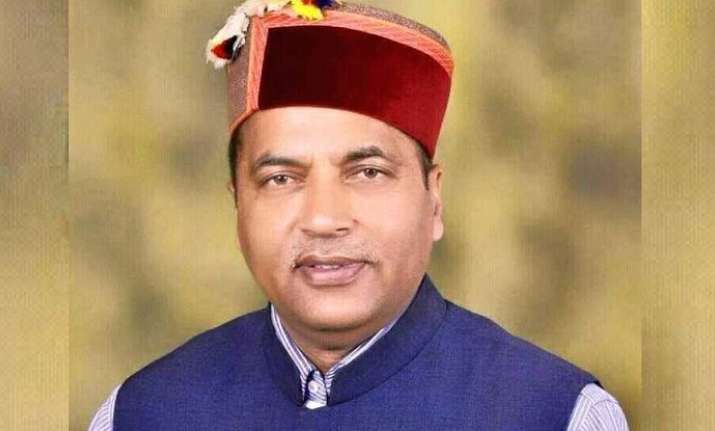 The suspense that prevailed over the Bharatiya Janata Party's pick for the new Chief Minister of Himachal Pradesh ended today, with the party announcing five-time legislator Jairam Thakur as the leader of the BJP legislature party and the new CM of the state.
An announcement in this regard came at a meeting of the winning MLAs that got underway today to pick the state's new leader in Shimla a short while ago.
The BJP, which swept the recently concluded Himachal Pradesh Assembly elections, overthrowing the Virbhadra Singh-led Congress government in the state, had declared Prem Kumar Dhumal as its chief ministerial candidate. However, the veteran leader lost the election from his constituency.
According to party sources, the name of the new chief minister would be announced by party's central observers comprising Union ministers Nirmala Sitharaman and Narendra Singh Tomar and state party in-charge Mangal Pandey after the meeting of the new elected legislators in the state.
The names doing the rounds for the BJP's likely pick include Union Health minister JP Nadda and five-time legislator Jairam Thakur.
Party sources said central observers are expected to convey the name of the next Chief Minister approved by the party's central leadership to the legislators and get it approved from them unanimously.
Sitharaman and Tomar, along with Pandey, met the newly elected legislators and the Members of Parliament to discuss the formation of the government and the new Chief Minister.
After spending two days in Shimla, they returned to New Delhi and submitted their feedback to party President Amit Shah.
Riding a wave of anti-incumbency against Congress, the BJP registered an emphatic win in the state, bagging 44 of the 68 seats in the assembly and even increased its vote share substantially, from 38.7% in 2012 to 48.7% in 2017, making the loss of its top leaders even more shocking.
Congress mustered only 21 seats, even as its vote share fell from 42.8% in 2012 to 41.8% this time.
The humiliating loss of the earlier CM candidate Dhumal, and a slew of other top party leaders from the state, threw the BJP's choice of CM in a spin.
The party later altered its decision on Dhumal and said the new CM would be from among the winning legislators.