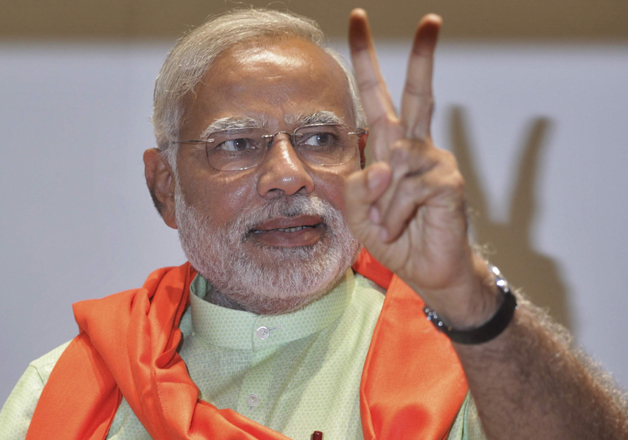 The Bharatiya Janata Party has dubbed its victory in by-elections in Assam and Madhya Pradesh as a signal of the people's support for Prime Minister Narendra Modi's radical note ban decision.   
Union Minister Ananth Kumar today said that the BJP's performance in by-elections in Assam and Madhya Pradesh shows people are happy with PM Modi's decision to ban Rs 500 and Rs 1,000 notes.
"The people of India are with Narendra Modi," Kumar declared in the Parliament as reports came in that the BJP has retained both seats in Madhya Pradesh - the Nepanagar assembly seat and Shahdol Lok Sabha seat.
The BJP retained the Nepanagar Assembly seat with party candidate Manju Dadu winning defeating her nearest Congress rival Antar Singh Barde by a margin of 42,198 votes. Manju bagged 99,626 votes while Barde got 57,428 votes, an election official said. 
BJP fielded Manju Dadu, daughter of late MLA Rajendra Shyamlal Dadu whose death in an accident necessitated the bypoll. 
The Shahdol (ST) Lok Sabha seat was bagged by party's Gyan Singh who defeated Congress rival Himadri Singh by a margin of over 60,000 votes.
In Assam, BJP's Pradan Baruah bagged the Lakhimpur Lok Sabha seat which was vacated by Chief Minister Sarbananda Sonowal. He defeated his nearest rival Congress candidate Hem Hari Pegu by a huge margin of over 2040 lakh votes.
The BJP also won Baithalangso assembly seat in Karbi Anglong hill district, where Congress candidate Mansing Rongpi had won in May joined the BJP. Rongpi contested the by-election on BJP ticket and was elected again.
In Arunachal Pradesh, Dasanglu Pul, wife of former CM Kalikho Pul, who committed suicide in August, won Hayuliang Assembly seat as a BJP candidate. The BJP had joined the state government after CM Pema Khandu broke away from the Congress party.
In Tripura, the ruling CPI-M won the two Assembly seats -- Barjala (SC) and Khowai.
CPI-M candidate Jhumu Sarkar trounced his nearest BJP rival Shistamohan Das by a margin of 3,374 votes in Barjala (SC) constituency. CPI-M secured 15,769 votes, while BJP garnered 12,395 votes. Congress secured only 804 votes, while Trinamool Congress (TMC) 5,629 votes. 
In Khowai constituency, CPI-M candidate Biswajit Datta trounced his nearest TMC candidate Manoj Das by a margin of 16,047 votes. CPI-M secured 24810 votes and TMC 8763 votes. The opposition Congress candidate, who secured 13859 votes in the last Assembly elections in 2013, secured only 696 votes in this election.
In West Bengal, the ruling Trinamool Congress (TMC) retained the two Lok Sabha seats and one assembly seat where by-poll was held on November 19 with its candidates winning by massive margin. 
TMC candidate Dibyendu Adhikari won Tamluk Lok Sabha seat by defeating his nearest CPI(M) rival Mandira Panda by 4.97 lakh votes, up from 2.5 lakh votes in 2014. 
The party won the Coochbehar Lok Sabha seat with its candidate Parthapratim Roy drubbing his nearest rival BJP's Hemchandra Burman by a margin of 4.9 lakh votes and pushed Forward Bloc, a LF partner to the third position. Roy increased the party's victory margin from 38,000 in 2014 to 4.9 lakh. 
In Monteswar assembly seat, Saikat Panja of TMC won the seat by a margin of 1.27 lakh votes over his nearest CPI(M) rival Md Osman Gani Sarkar. The CPI(M), Congress and BJP lost their deposits in the polls. TMC'S winning margin in the May 2016 assembly polls was a mere 786 votes when Congress and CPI(M) fought unitedly. 
In Tamil Nadu, by-elections were held for Thanjavur and Aravakurichi assembly seats where polling was cancelled during the state elections this year. All three AIADMK candidates, who were in direct contest with rival DMK, have won.
In Puducherry, Chief Minister V Narayanasamy of the Congress has won the Nellithope Assembly seat. Narayanasamy, a Lok Sabha MP, needed to become a member of the state assembly within six months of being sworn in as Chief Minister in May.