Follow us on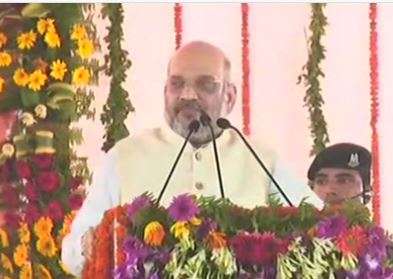 BJP president Amit Shah on Sunday attacked the Congress party and said that it should clear its stand in the Rajya Sabha on the amended OBC bill. Modi government has got the OBC bill passed in the lower house and now it will go to the upper house, Shah said. 
He urged the grand old party to make its stand clear on the bill so that it becomes clear that whether the Congress really wants the welfare of the backward classes.
He also said that the opposition is playing vote bank politics on the National Register of Citizens (NRC) issue. The country needs to push out each and every Bangladeshi infiltrator, he said.
"Mamata Banerjee and Congress say that NRC should not be done. I ask Rahul Baba whether NRC should be conducted in the country or not. But, he does not answer. You all should tell that whether the Bangladeshi infiltrators should be pushed out (from India) or not."
"Today I would like to ask the SP, the BSP and the Congress whether they want the infiltrators to stay in the country or they should be driven out. I know the answer of the people of UP. The answer is that not even a single infiltrator should be allowed to stay in India," he said, reported PTI. 
On August 2, the Constitution (123rd Amendment) Bill, 2017, commonly known as OBC bill, was passed in the Lok Sabha. 
The proposed legislation, if passed, will grant the National Commission for Backward Classes (NCBC) constitutional status like the one enjoyed by National Commissions for Scheduled Castes and Scheduled Tribes.
BJP president was here to attend a function on the renaming of Mughalsarai junction.