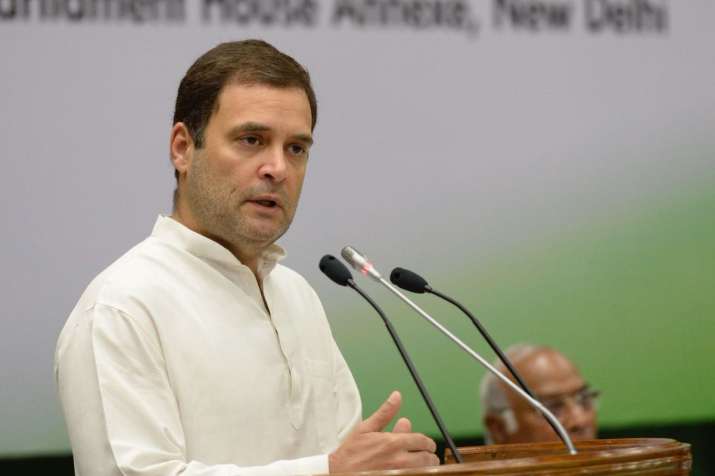 Congress President Rahul Gandhi, who is addressing first Congress Working Committee (CWC) as its chairman today in New Delhi, stressed on the need of expansion of the party's vote base and said that they need to develop a strategy to win back the trust of the voters. 
"Expansion of our party vote base is one of our biggest tasks. In each constituency, we have to find people who have not voted for us and develop a strategy to reach out to them and win back their trust," Gandhi told CWC. 
The Congress president also reprimanded party leaders for making controversial statements in public forums and said that he will not hestitate to take action against anyone who makes 'wrong statements'. 
"I am fighting bigger fights. Everyone has the right to speak in party forum but if a party leader gives a wrong statement and weakens this fight, I will not hesitate to take an action," he told CWC.
Gandhi described the revamped Congress Working Committee as a bridge between the past, present and future and asked party men to rise and fight for India's oppressed. 
In a press conference outside the meeting, AICC General Secretary Ashok told media that Rahul Gandhi has sounded the election bugle and has asked the party leaders to start preparing for 2019 Lok Sabha polls. 
Also present at the presser, Randeep Surjewala said that Rahul Gandhi expressed concern that the nation's hopes were bieng shattered. "BJP is enroaching organisations, minorities including Dalits, women or youth are being cheated out of their rights," Surjewala said quoting Gandhi.
The CWC has authorised Rahul Gandhi to form election campaign committee and take decisions on pre-poll and post-poll alliance, Gehlot informed. 
#WATCH: Congress President Rahul Gandhi says 'We are setting up a group that is going to do that (alliance)' on being asked on alliance for 2019 Lok Sabha election. pic.twitter.com/qCFANusupJ

— ANI (@ANI) July 22, 2018
Meanwhile, UPA Chairperson Sonia Gandhi used the CWC dias to lash out at the Modi government. She said that the people of the country need to be rescued from a "dangerous regime" that is "compromising" with India's democracy.
In her address to CWC, Sonia Gandhi also cautioned the people about the "reign of despair and fear" heaped upon India's deprived and poor. She said the rhetoric of Prime Minister Narendra Modi shows his "desperation" reflecting that the "reverse countdown" of the Modi government has begun.
We are committed to make alliances work and we are all with Congress President Rahul Gandhi in this endeavour. We have to rescue our people from a dangerous regime that is compromising with the democracy of India, she said.
Former prime minister Manmohan Singh, in his address assured Rahul Gandhi that he and all other Congressmen will help him in the onerous task of restoring India's social harmony and economic development. 
This is the first time that the newly-constituted CWC is meeting under the chairmanship of Rahul Gandhi. Several Congress leader who were dropped from the new CWC have chosen to stay away from the meeting despite a formal invitation. The sources say that senior Congress leaders  are not attending the meeting. They were invited to attend CWC meeting. Party president Rahul Gandhi had dropped both the leaders from CWC earlier.
Watch video: