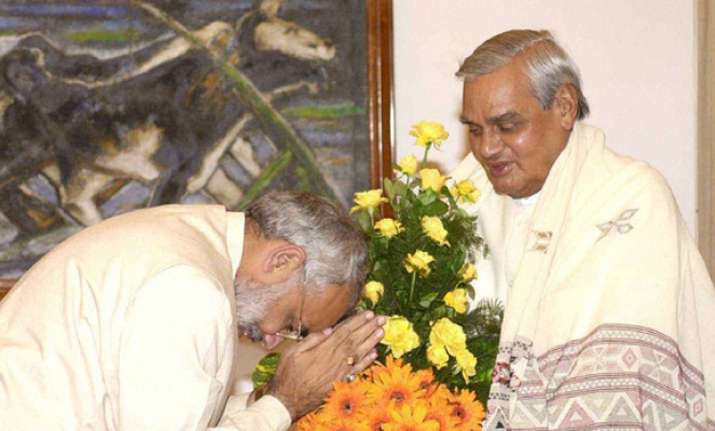 Former Prime Minister Atal Bihari Vajpayee is not keeping good health for last several years. However, his illness could not prevent him from creating a new record, thanks to the Modi government.
According to a report in Times of India, the 90-year-old BJP stalwart has become the first living leader who has maximum government schemes and institutions named after him.
In this regard, Vajpayee has left behind leaders from even Nehru-Gandhi dynasty including Jawaharlal Nehru, Indira Gandhi and Rajiv Gandhi.
However, the Nehru-Gandhi dynasty is still way ahead of others including Mahatma Gandhi if one counts the number of schemes and institutions named after a leader regardless of whether they are alive or dead.
Interestingly, Modi government has renamed many existing schemes by adding prefix 'Atal'.
For example, they have renamed 'PM Pensioned Yojana' as  'Atal Pension Yojna', a flagship scheme of NDA.
Similarly, Jawaharlal Nehru National Urban Renewal Mission (JNNURM) has been renamed Atal Mission for Rejuvenation and Urban Transformation (AMRUT).
Apart from decorating him with the highest civilian award "Bharat Ratna", Modi government has also recognised Vajpayee's birthday, December 25, as 'Good Governance Day'.
The BJP-ruled state governments have also chipped in with naming a number of schemes and institutions after Vajpayee's name.
In addition to naming 9,000 Gram Panchayat Kendras after Vajpayee, the Vasundhara Raje-led Madhya Pradesh government has renamed Rajiv Gandhi Sewa Kendras as Atal Sewa and Suvidha Kendras.
The Madhya Pradesh government led by Shivraj Singh Chouhan, on the other hand, has established Atal Bihari Vajpayee Institute of Good Governance and Policy Analysis.