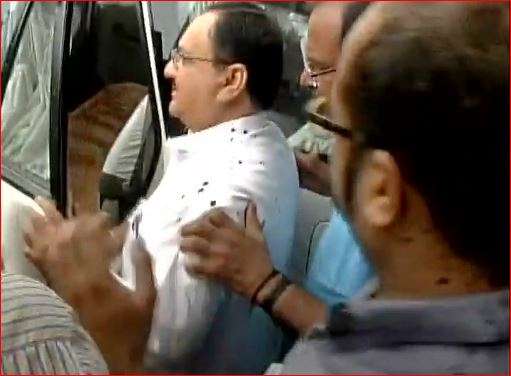 Union Health minister JP Nadda had to face the wrath of the agitating students when he visited All India Institute of Medical Sciences (AIIMS) in Bhopal.
The protesting students wanted the union minister to ensure better facilities and faculties at the institute.  The minister said that he will try to find a solution to their problems but the unhappy students retorted by saying that every minister says the same thing.
Asking the students to have patience, the minister started moving towards his vehicle. All of a sudden, somebody from the crowd threw ink at him which incidentally fell at his shirt. 
A security cordon was immediately formed around the minister and he was taken to his vehicle in a hurry. His vehicle reportedly ran over the feet of a few female students who got injured in the process.

 

The female students were taken to a nearby hospital for treatment. One of the female students said that they wanted to inform the minister about the problems they were facing but he didn't listen.