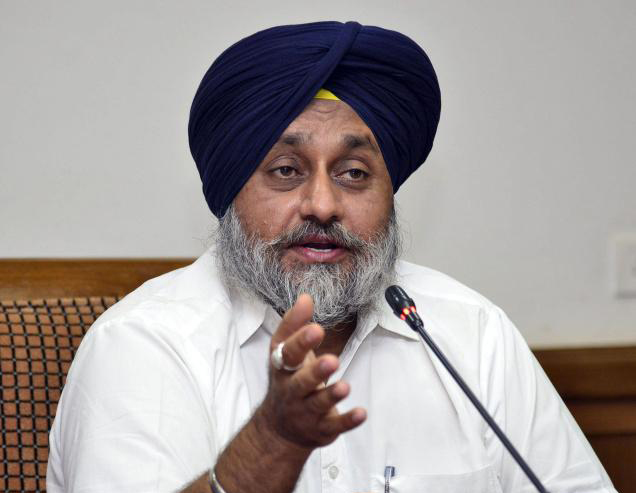 Shiromani Akali Dal leader Sukhbir Singh Badal on Sunday alleged that Arvind Kejriwal-led Aam Aadmi Party (AAP) had "very close links" with radical Sikh organisations.
"Radical organisation, people who participated in the 'Sarbat Khalsa ' (grand assembly of Sikhs), they are all linked to AAP," Sukhbir said.
Last November, radical Sikh organisations and others held the congregation of radicals near Amritsar.
Punjab's deputy chief minister also termed the recent incident of party AAP MP Bhagwant Mann uploading Parliament's security set up on social media as a "very serious lapse".
 "I think it is a very serious (security) lapse, what Bhagwant Mann has done. I openly say that AAP has very close links with radical organisations," Sukhbir Singh Badal, who is also Punjab's home minister, told media after offering prayers at the Golden Temple, here on Sunday along with his wife and Union minister Harsimrat Kaur Badal.
Mann on Thursday shot a video clip of his journey from home to Parliament House, including movement past various security check points, and posted it on social media, drawing flak from various quarters for putting Parliament complex security in danger.
Cornered by leaders of almost all parties in both the Houses, Mann apologised to Lok Sabha Speaker, Sumitra Mahajan and also removed the video from Facebook.
Badal also said the ruling Shiromani Akali Dal (SAD) was not threatened by the emergence of AAP on Punjab's political scene.
"The more the opponents, better for the Akali Dal. The public will control them. People will reject them. No one is now bothered about them," he said.
Badal, the president of the Akali Dal in alliance with the BJP, refused to comment on cricketer-turned-politician Navjot Singh Sidhu and his wife Navjot Kaur Sidhu.
"I don't want to comment on them (Sidhu couple)," Badal said.
Navjot Singh Sidhu had recently quit Rajya Sabha, where he was nominated by the BJP-led government earlier this year.
His wife is the sitting BJP legislator from the Amritsar-east assembly seat and is also a chief parliamentary secretary (just below a minister) in the state government.
(With agency inputs)