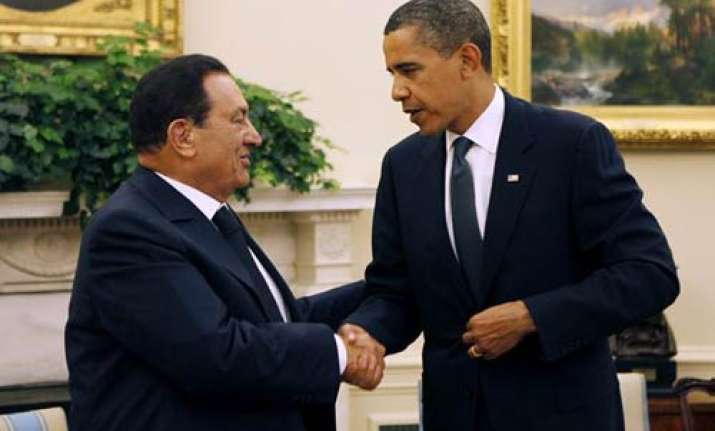 Washington, Feb 4 :  The Obama administration is in talks with top Egyptian officials about the possible immediate resignation of President Hosni Mubarak and the formation of an interim government that could prepare the country for free and fair elections later this year, U.S. officials said late Thursday.
Creation of a military-backed caretaker government in Egypt is one of several ideas being discussed as anti-Mubarak protests escalate in the streets of Cairo and other Egyptian cities, the officials said. 
Those protests are expected to grow in size and intensity on Friday and the administration fears they may erupt into more widespread violence unless the government takes tangible steps to address the protesters' main demand that Mubarak leave office.
The officials stressed the United States isn't seeking to impose a solution on Egypt but noted that the administration had made a judgment that Mubarak has to go soon if there is to be a peaceful resolution to the crisis.  
The officials spoke on condition of anonymity to discuss the sensitive diplomatic talks, which are continuing. The talks about Mubarak's immediate departure were first reported by The New York Times.White House and State Department spokesmen would not discuss details of the discussions U.S. officials are having with the Egyptians. 
Vice President Joe Biden spoke with Egyptian Vice President Omar Suleiman on Thursday, a day after a similar conversation between Suleiman and Secretary of State Hillary Rodham Clinton.  
Officials said neither Biden nor Clinton made a specific call for Mubarak to resign immediately but pressed for measures that would ease tensions on the streets and set the stage for democratic elections.
"The president has said that now is the time to begin a peaceful, orderly and meaningful transition, with credible, inclusive negotiations," said White House national security spokesman Tommy Vietor on Thursday night."We have discussed with the Egyptians a variety of different ways to move that process forward, but all of those decisions must be made by the Egyptian people."
An administration official said there is no single plan being discussed with the Egyptians.Rather, the administration is pursuing different ideas with Egyptian figures on how to proceed quickly with a process that includes a broad range of voices and leads to free and fair elections.
Among those options is a proposal for Mubarak to resign immediately -- which the embattled president has refused to do -- and for him to cede power to a transitional government run by Suleiman.
But the official rejected the notion that the White House was trying to impose that idea and said it was not at all clear it would happen. The official spoke on condition of anonymity to discuss internal deliberations.The discussions come amid escalating violence between pro- and anti-Mubarak forces.
The United States on Thursday severely criticized what it called systematic attacks on journalists in Egypt and said they appeared to be an attempt to shut out reporting of even bigger anti-government demonstrations to come.
Clinton condemned "in the strongest terms" the pro-government mobs that beat, threatened and intimidated reporters in Cairo.
Attacks as well on peaceful demonstrators, human rights activists, foreigners and diplomats were "unacceptable under any circumstances," she said.
Clinton pointed the finger at Mubarak's government without explicitly blaming the 82-year-old president for the violence. She said, "It is especially in times of crisis that governments must demonstrate their adherence to these universal values,"Egypt's government must hold accountable those responsible for the attacks and "must demonstrate its willingness to ensure journalists' ability to report on these events to the people of Egypt and to the world," she said.
Foreign photographers reported attacks by Mubarak supporters near Tahrir Square, the scene of vicious battles between Mubarak supporters and protesters demanding he step down after nearly 30 years in power.
The Egyptian government has accused media outlets of being sympathetic to protesters who want Mubarak to quit now rather than complete his term as he has pledged.
Among the many detained were correspondents for The New York Times, Washington Post and Al-Jazeera. Human rights groups said many activists also were taken away after a raid by the military police on a legal center in Cairo.
The Obama administration warned that the arrests and intimidation of reporters may be aimed at stopping the spread of the anti-government message ahead of a potentially critical protests Friday, when many Egyptians are expected to take to the streets after prayer services.
"It could well be that this is in anticipation of events tomorrow," State Department spokesman P.J. Crowley said. "We are bracing for a significant increase in the number of demonstrators on the streets and the real prospect of a confrontation."
Amid heightened U.S. concern about rising violence in Egypt, President Barack Obama began his remarks at Thursday's National Prayer Breakfast with pointed hopes for better days ahead: "We pray that the violence in Egypt will end and the rights and aspirations of the Egyptian people will be realized." AP