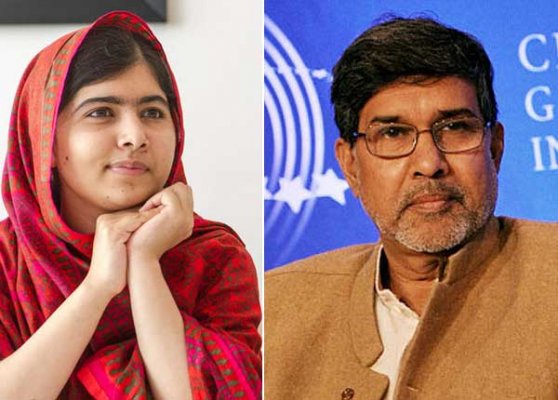 United Nations: The United Nations lauded the awarding of the Nobel Peace Prize to Indian child rights activist Kailash Satyarthi and Pakistani girls rights activist Malala Yousafzai, with Secretary General Ban Ki-moon and a host of UN agencies saying the honour recognises the two individuals who have worked tirelessly to defend the rights of children.
Congratulating Satyarthi and Yousafzai, Ban said, the two are the world's greatest champions for children and the true winners today are the world's children with this 'well-deserved recognition'.
UN High Commissioner for Human Rights Zeid Ra'ad Al Hussein in Geneva said the awarding of the Nobel Peace Prize to the two frontline human rights defenders sends an important message of support and recognition to individuals around the world tirelessly working to defend the rights of children.
He said both Yousafzai and Satyarthi have demonstrated tremendous courage in the face of powerful adversaries.
The UN Committee on the Rights of the Child expressed hope that the recognition given to Satyarthi and Yousafzai would help raise the profile of children's rights and give added impetus to the efforts of all to make the rights of the child a reality for all children.
UNICEF said, "The well-deserved honour for two brave and determined champions for children comes as the international community celebrates the 25th anniversary of the Convention on the Rights of the Child."
UNESCO Director-General Irina Bokova described Satyarthi as a close friend of the UN agency, who has been at the forefront of the global movement to end child slavery and exploitative child labour since the 1980s.
As founding president of the Global March Against Child Labour and one of the leaders of the Global Campaign for Education, he has worked with passion and courage to fulfil every child's right to education, Bokova said.
She added that Yousafzai stands with the agency in the struggle for universal education, especially for girls.
"Their message — that education is vital for peace and development — will now ring out louder than ever," she added.
In December 2012, UNESCO and Pakistan created the Malala Fund for Girls Education, to which Pakistan made a contribution of USD 10 million during a high-level event dedicated to the young Pakistani girl.
Bokova said the Nobel honour is a clear recognition of the fact that peace depends on quality education, and particularly on the education of girls.
"This basic right is under attack nowadays, schools are targeted and in many parts of the world students are prevented from going to school. We must fight with all we have to protect schools and make them safe havens of development and tolerance," the Director-General said.
Special Representative of the Secretary-General Santos Pais said the award pays tribute to the duo's decisive contribution to the cause of children's rights, in particular to the elimination of discrimination and violence against children.