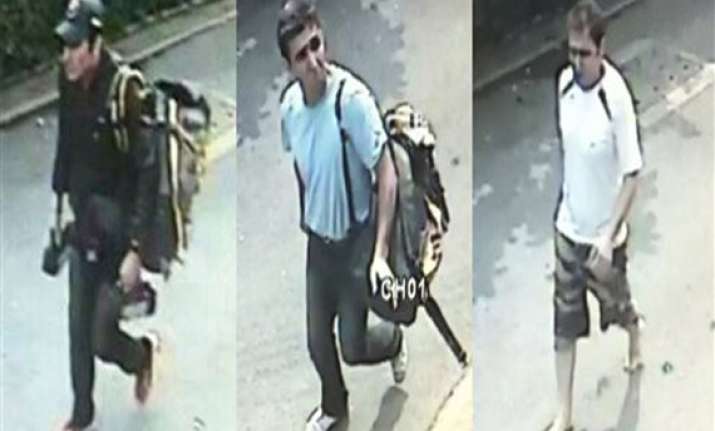 Bangkok, Feb 16: The Iranians arrested after accidentally setting off an explosives cache in Bangkok were planning to attack Israeli diplomats, Thailand's police chief said Thursday, the first confirmation by local officials that the group was plotting terror attacks in the Southeast Asian country.

Police chief Gen. Prewpan Dhamapong said that Thai authorities "know for certain that (the target) was Israeli diplomats."

"This issue was about individuals and the targets were specific," he said. "This was something personal."

Israel is accusing Iran of waging a campaign of state terror against Israeli targets abroad, including an explosion Monday in New Delhi that tore through an Israeli diplomatic vehicle, wounding the driver and a diplomat's wife, and a foiled attempt the same day to detonate another bomb on the car of driver for the Israeli Embassy in the former Soviet republic of Georgia.

Iran has denied responsibility for all three plots, including one uncovered in Bangkok on Tuesday when explosives stored in a house occupied by several Iranian men blew up accidentally.

The Israeli ambassador to Thailand, Itzhak Shoham, declined to comment on the report and said the Israeli Embassy was open and functioning as normal.

Shoham told The Associated Press earlier this week, however, that the similarity of the bombs found in Bangkok and New Delhi had led Israel to believe the plots were linked.

Prewpan confirmed that two homemade "sticky" bombs found at the blast site Tuesday matched the devices planted on Israeli diplomatic cars in India and Georgia a day earlier.

"The type of improvised explosives they used were the same. The type that was attached to vehicles," Prewpan said.

Last month, after police arrested a Lebanese-Swedish man in Thailand with alleged links to Hezbollah, authorities here insisted Thailand was only being used as a staging ground for attacks, but was not the target.

The man led police to a warehouse near Bangkok packed with more than 8,800 pounds (4,000 kilograms) of urea fertilizer and other materials that could be used to make bombs.

At the time, Israel and the United States warned their citizens to be alert. The U.S. Embassy said foreign terrorists may have been looking to attack tourist areas in Bangkok and Thai media reported the attacks were aimed at Israeli targets, including the Israeli Embassy.

Thai officials say it is not clear if the two incidents are connected.

Police and investigators are still trying to determine if the Iranians found in Bangkok were part of a larger terror group.

Two of the men were detained Tuesday after fleeing their destroyed house; they have been identified as Saeid Moradi and Mohammad Kharzei.

A third Iranian, Masoud Sedaghatzadeh, was detained Wednesday in Malaysia, one day after boarding a flight there from the Thai capital.

Malaysia federal police spokesman Ramli Yoosuf said Sadaghatzadeh was being investigated for terrorism-related activities linked to the Bangkok blasts, but could not say whether he would be extradited to Thailand.

A Bangkok court has approved arrest warrants for all three men as well as an Iranian woman named Leila Rohani who rented the destroyed house. Prewpan said Rohani was being sought for questioning, but was thought to have left Thailand.

All four now face criminal charges including possession of explosives, attempted murder, attempted murder of a policeman and causing explosions that damaged property.

On Wednesday, Israeli Prime Minister Benjamin Netanyahu denounced the violence.

"If this aggression isn't halted, ultimately it will spread to many other countries," Netanyahu said in Israel's parliament Wednesday. He convened his Security Cabinet to discuss terrorism against Israel and "Iran's involvement in repeated attempts to attack Israeli targets," his office said.

Iran's Foreign Ministry spokesman Ramin Mehmanparast called the allegations baseless and said Israel was trying to damage his country's relations with Thailand and fuel conspiracy theories. Iran has blamed the Jewish state for the recent killings of Iranian atomic scientists.

At least five bombs were identified in Bangkok. The first blew off the roof of the men's house, and Moradi detonated two others.

He hurled one at a taxi when its driver refused to give him a ride, wounding the driver and three other bystanders. He threw another explosive as he fled police, and the blast ripped off one of his legs below the knee.

When police searched the men's house in the busy Sukhumvit Road area, a bomb squad found and defused two explosives, each made of three or four pounds of C-4 explosives inside a pair of radios.

The type of explosives suggested they would have been used to target individuals rather than large crowds or buildings, said National Security Council chief Wichean Potephosree.