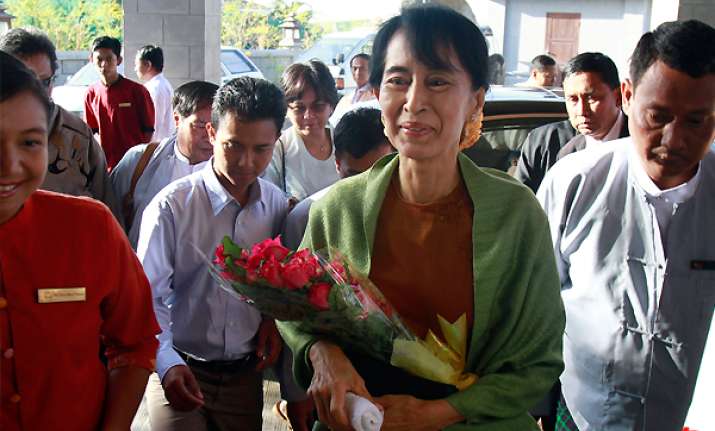 Naypyidaw, Dec 23: Myanmar's democracy champion Aung San Suu Kyi registered her opposition party and visited the national parliament for the first time today, as she prepares to enter the mainstream political arena.

The visit in the capital Naypyidaw included a meeting with lower house speaker Shwe Mann, number three in the previous ruling junta and still one of the most powerful men in Myanmar, who said he was "glad" to hold the talks.

"We have to work together as unity is strength," he told reporters.

Suu Kyi, 66, earlier went to the Union Election Commission office to register her National League for Democracy (NLD) party, which must now wait at least a week to be officially endorsed.

"They have signed for their party registration already," a commission official told AFP, referring to Suu Kyi and other senior party members.

The NLD was given the green light from authorities this month to rejoin mainstream politics, paving the way for the Nobel laureate to run for a seat in the new parliament.

Upper house speaker Khin Aung Myint, who also met Suu Kyi today, described her visit as "auspicious".

"We wanted this to happen a long time ago and we welcome her."

The NLD was stripped of its status as a legal political party by the junta last year after it chose to boycott a rare and controversial election, saying the rules were unfair.

Suu Kyi was released a few days after the November poll, having spent much of the past two decades in detention, and she is now planning to take part in by-elections expected early next year although no polling date has been set.