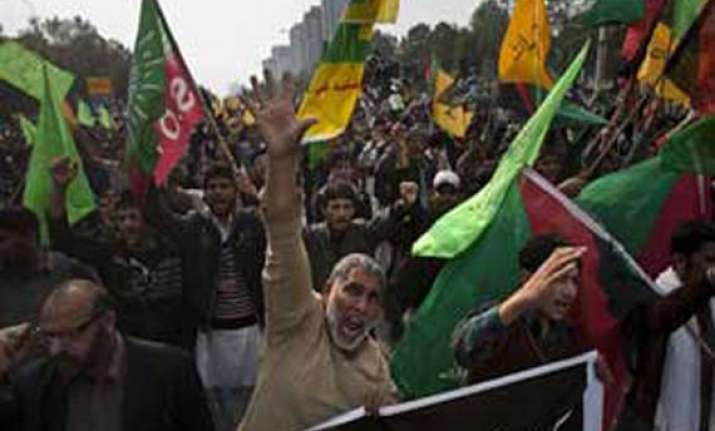 Islamabad, Feb 18: Pakistan's minority Shia Hazara community has said it will not bury dozens of people killed in a devastating bombing in Quetta till the army takes control of the southwestern city to prevent further terrorist attacks. 
Hundreds of Shias have joined a protest with the bodies of some of the 85 people killed in Saturday's attack at Hazara Town in Quetta, the capital of the restive Balochistan province.
The banned Lashkar-e-Jhangvi claimed responsibility for the bombing. A bomb containing hundreds of kilograms of explosives ripped through a crowded market in Hazara Town on Saturday.  Many women and children were among the dead. About 200 people were injured by the blast, which flattened several buildings.
Leaders of the Shia Hazara community, which has been repeatedly targeted by sectarian groups like the LeJ, gave the government a 48-hour ultimatum to launch an army operation against terrorists.
They accused elements of the security establishment of sheltering the militants. Quetta police chief Wazir Khan Nasir said officials were engaged in negotiations with the Shia leaders to convince them to bury their dead.
However, Shia leader Qayyum Changezi said the protesters would not bury the dead "until a targeted operation is launched" against terrorists.
Syed Muhammad Hadi, a spokesman for an alliance of Shia groups, said the community wanted security in Quetta to be handed over to the army and targeted operations against terrorists and their supporters. The paramilitary Frontier Corps is responsible for security in Balochistan but Shias say it is unable to protect them.