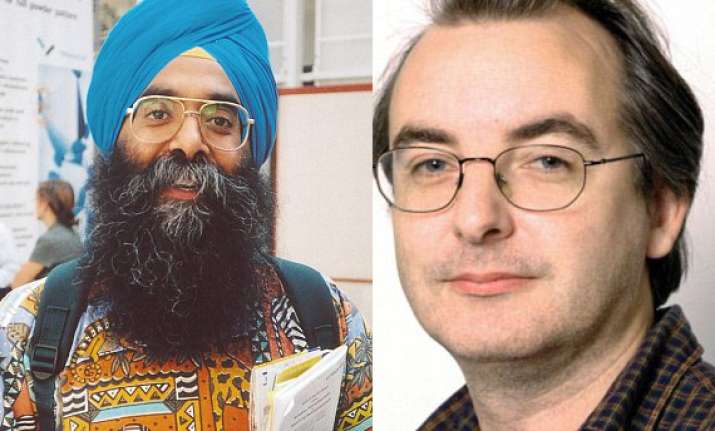 London, Jan 13: Devinder Sivia, an Indian-origin Mathematics lecturer arrested in connection with the death of his colleague in Oxfordshire, was today released on bail until April 18, the police said.

The incident has shocked the academic community in Oxford amidst reports that Sivia, 49, and victim Professor Steven Rawlings, 50 - described as close friends for decades and who co-wrote a book - had fallen out over academic matters while they were at Sivia's house after a meal at a local pub.  Rawling's body was found in Sivia's house in Southmoor, Oxfordshire.

The Thames Valley Police said a post-mortem examination carried out has proved inconclusive and further tests will be undertaken over the forthcoming weeks.  

Linda Davey, 64, Rawling's older sister, told The Telegraph that he was not the type of man to get into an argument over anything.
She said: "They have been friends for 30 years. We can't think that there was any kind of fight. We can only assume that it was a terrible accident. Steven was big, but he was gentle."

Vice-Chancellor of Oxford University Professor Andrew Hamilton said: "The entire University community has been profoundly saddened and shocked by the tragic and untimely death of Professor Steve Rawlings. Our thoughts are with his family and friends."

Detective Superintendent Rob Mason said: "This is a tragic incident and our investigations are on-going to establish the cause of death. A substantial amount of information is already in the public domain and we can confirm that the two individuals involved have been friends for over thirty years".

Sivia, who is a stipendiary lecturer in Mathematics for Sciences at Oxford University, lectures to undergraduates studying chemistry and physics and has published two books.  

Local resident Duncan Logan, who lives opposite the house of Sivia, said he had known both academics for several years and described them as "the best of friends".
He said: "I can't believe what I'm hearing it's like a bolt from the blue. They were the best of friends. They were nice, gentle, well-spoken, polite and hard working people. I am proud to have had both of them as friends. I never heard them row."

He added: "They seemed to respect each other enormously, and talked very highly of each other. I got a text about it today and at first I thought it was Devinder who was dead. I can't imagine Devinder hurting anyone. I've never even heard him raise his voice. He such a gentle person".

A report from Daily Mail adds: Police discovered the 50-year-old professor's battered body on Wednesday night after they were called about an 'incident' at Dr Sivia's bungalow.

A neighbour is said to have tried to save the dying man's life by desperately pumping his chest. But  minutes after officers arrived, Dr Sivia – who was dressed all in white – was led away in handcuffs.

Last night police were trying to establish how the men, who were colleagues in the astrophysics department of the university and co-authored an academic text, fell out.

One motive being considered is that they may have argued over 'academic matters' at Dr Sivia's home in Southmoor, near Abingdon.

Last night detectives from the Thames Valley Police's major crime unit had sealed off the home and launched a murder investigation.

A post mortem proved inconclusive and further examinations will be undertaken in an attempt to find the exact cause of Professor Rawlings's death.

Detectives are also trying to establish if the two men attended the St John's College 'feast' on the night of the tragedy.

This is a formal dinner which takes place regularly in the main hall of the college, where Dr Sivia is a maths lecturer. All the dons at the college are invited and are allowed to bring a guest.

Professor Rawlings worked at St Peter's College and the pair are thought to have known each other for at least 15 years.

They co-wrote a book called Foundations of Science Mathematics, which was published in 1999.

The murder bears all the hallmarks of an Inspector Morse mystery.

The character, played by John Thaw in the long-running TV series, investigated murders amongst the Oxford academic community.

The attractive village of Southmoor, where Dr Sivia lives, was home to government scientist and weapons inspector, Dr David Kelly, who was found dead under mysterious circumstances in 2003.

Professor Rawlings lived with his wife Linda in Wantage, Oxfordshire, and the couple celebrated her 50th birthday last week.

Family liaison officers broke the news to Mrs Rawlings, who identified her husband's body at the mortuary of John Radcliffe Hospital in Oxford.

Dr Tony Lynas-Gray, research assistant in Oxford University's astrophysics department, said Professor Rawlings and Dr Sivia were 'the best of friends'.

Dr Sivia, who is unmarried. had given data analysis lectures for graduate students in the astrophysics department since 2006 on Professor Rawlings' recommendation.

Dr Lynas-Gray said: 'Dr Devinder Sivia was a great friend of Stephen Rawlings. Dr Sivia is a very knowledgeable statistician and very much respected by students with the lectures he gives.

'Stephen talked about Dr Sivia and said what a great person he was.

'Stephen Rawlings was a great man and a great astronomer. He was very much liked by his students and colleagues. We're entirely devastated.'

Last night dozens of tributes to Professor Rawlings were posted on the internet by colleagues and past students.

One said: 'Can't believe we've just lost such a fantastic and world leading astrophysicist.'

Stanislav Zavjalov wrote on Facebook: 'No!! Horrible! I still remember his explanation of the divergence theorem using the wildebeest. May he rest in peace.'

One neighbour said he saw  Sivia on Wednesday afternoon at around tea-time, arriving back home from work alone to his two-bedroom detached bungalow.

He said: 'Apparently it happened late on Wednesday night because the police came and banged on our doors at about 1.30am. There was a lot of noise and commotion – it was a little bit perturbing for something like this to happen in our quiet road.'

Mother-of-one Kelly Ludlow, 30, who lives opposite Dr Sivia, said: 'There must have been four or five police cars outside the house at one stage.

'I saw a man wearing a turban being led away from the property. He was cuffed and two policemen were with him.

'It was very dark and I couldn't see him clearly, but he was dressed all in white.' The officer leading the inquiry said he was 'keeping an open mind'.

Detective Superintendent Rob Mason said: 'It does appear that no one else was present at the address and we are not currently looking for anyone else in connection with this incident.'

Professor Rawlings had a PhD from Cambridge and a DPhil from Oxford.