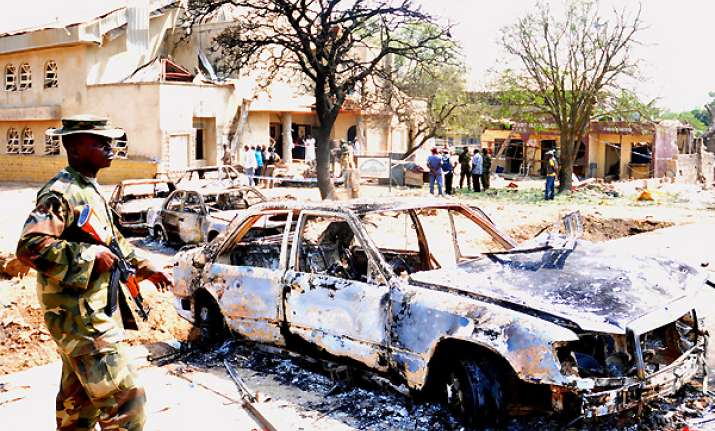 Abuja, Jan 1: Nigeria's President Goodluck Jonathan today declared state of emergency in regions bedeviled by regular attacks by radical Muslim group Boko Haram, which was described as "cancerous" group bent on destroying the country.

He ordered closure of all land and sea borders in the affected areas. Jonathan during a nationwide broadcast declared a state of emergency in five local government areas of Borno state, five local government areas of Yobe state, four local government areas of Plateau state and one local government area of Niger state.

Meanwhile, a blast followed by a shootout near a mosque claimed four lives as suspected militants of a radical group launched an attack in the troubled northern Nigerian city of Maiduguri.

He said the chief of defence staff and the inspector general of the police force would take necessary actions concerning the affected areas while he announced the setting up of a counter-terror group within the armed forces to handle the issues of terrorism in the region.

"As part of the overall strategy to overcome the current security challenges, I have directed the closure of the land borders contiguous to the affected Local Government Areas so as to control incidences of cross boarder terrorist activities as terrorists have taken advantage of the present situation to strike at targets in Nigeria and retreat beyond the reach of our law enforcement personnel," he said.

Before the state of emergency announcement, Jonathan had paid a visit to Madalla town, near the federal capital territory, Abuja where the sect threw bomb on Christmas day on churchgoers killing not less than 44.

The total number of deaths resulting on simultaneous attacks on other northern cities on the Christmas day has been put at 49. He had described the sect as "cancerous" and lamented that any attack on any part of the nation is "an attack on all of us".