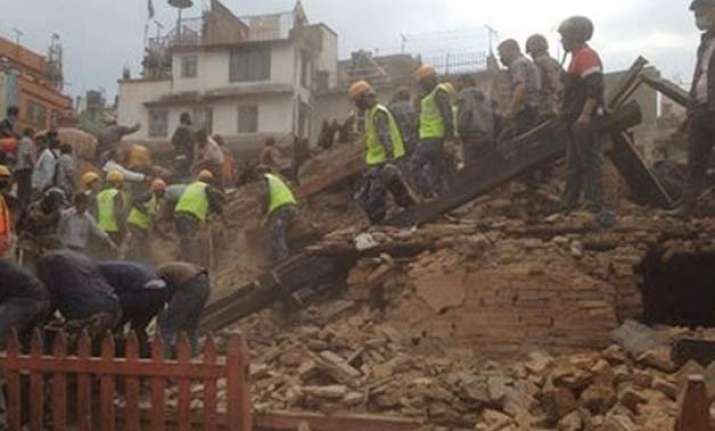 Lalitpur (Nepal): A young woman and her cousin who had an unbelievable escape in Nepal's killer earthquake are thanking god for what they say is their second life.
Menuka, 19, and her cousin Vikey were enjoying a television show just before Saturday noon at their home in Patan area here when the earth shook violently.
When they realised to their horror that it was a major earthquake, both dashed under a bed.  The quick thinking saved their life.
In no time, the four-storey house collapsed like a pack of cards, bringing down tonnes of cement, bricks, wood and beams.
"We tried to come out of the rubble but could not. My family members fortunately rescued us after about an hour," Menuka said, recalling a horror story the like of which is now widely heard in Nepal.
Besides Menuka and the cousin, there were seven others in the building when the 7.9 magnitude quake jolted Nepal. Call it divine will, all nine are alive.
Lalitpur district was among the worst affected districts following the quake that has claimed more than 5,700 lives and left nearly 12,000 injured, many in serious condition.
What was once a proud four-storey building is now just ruins. "We all had a miraculous save," Menuka said.
She is happy she is alive but despairs about the future.
"We don't know what to do. My father is a small time driver. But I am happy to see all family members alive," she said.
On Thursday, Menuka searched through the debris of what was her home and managed to take out a cooking gas cylinder which had mercifully not exploded.
But not everyone in Lalitpur was as lucky as Menuka and her family.
Thuli Tamnag, 50, lies on a Pattn Hospital bed with her left leg broken.
Tamang said: "I was having lunch when the earthquake hit us. My friend was with me. We tried to escape but a wall fell on us. My friend died on the spot. I am missing her."
The devastated Tamang does not want to return to her home as she fears more quakes are sure to follow.
Another hospital occupant is Manna, 40, who too has a broken leg. She said she was happy to survive.
"I was working in the kitchen when it happened," she said, referring to the temblor. "I don't know how I managed to escape."