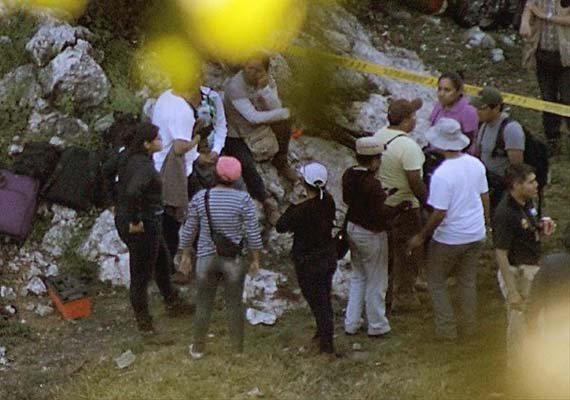 Mexico City: Experts with the Mexican Attorney General's Office are scouring an area near the town of Cocula for the bodies of the 43 students who disappeared Sep 26 near the city of Iguala.
The officials started working Tuesday at the dump located in a hard-to-access zone about 10 km from Cocula and half an hour from Iguala, which is in the southern state of Guerrero.
The dump covers some 40 sq. meters, half of which shows signs of having been burned.
A dozen forensic experts have cordoned off the area and placed little orange flags at certain spots in the dump, presumably to designate places to dig.
The AG's office came to the site after four members of the Guerreros Unidos drug cartel said they had participated in the students' disappearance.
The area is being heavily guarded by security forces and is being searched using trained sniffer dogs.
Mexican AG Jesus Murillo said Monday that the experts are seeking evidence that will corroborate the statements of the arrested cartel members that the site figured in the students' disappearance.
He said that two of the men arrested Tuesday by federal agents said that the local police handed over the students to them and the other two admitted having been lookouts for the criminal group on the night of the disappearances.
Murillo said last week at a press conference that Iguala Mayor Jose Luis Abarca ordered police to attack the students to prevent them from disrupting an event that night at which his wife, head of the local family services office, was to give a speech.
Six people -- three of them students -- were killed and 25 wounded in the police attack on buses transporting the young people, but 43 others were captured by police and later turned over to a local drug gang who were told they were members of Los Rojos, a rival criminal group.