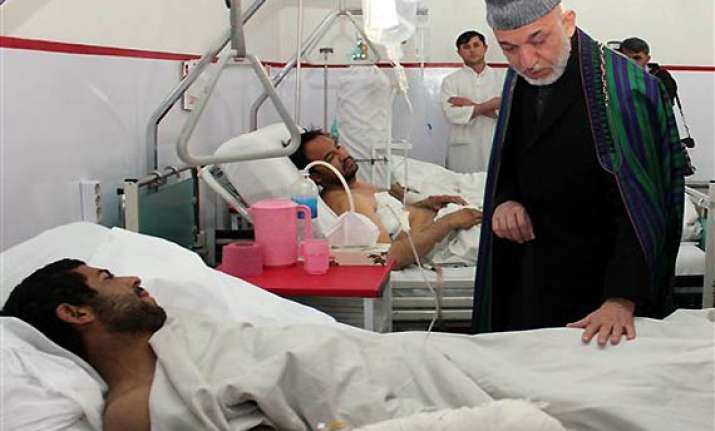 Kabul, Dec 8: Afghanistan today hit back at Pakistan after a shrine bombing killed at least 55 people in Kabul, saying it was up to Islamabad to act after a Pakistani group purportedly took responsibility.

Pakistan yesterday urged Afghanistan to provide hard evidence to support claims that Sunni militant group Lashkar-i-Jhangvi was behind the devastating attack on Shiite Muslims after President Hamid Karzai demanded justice. 

But in a developing war of words between the neighbours, whose relations are frequently tense, Kabul said today that it was up to Pakistan to investigate without waiting any longer. 

"It was the Lashkar-i-Jhangvi which claimed responsibility," Aimal Faizi, Karzai's spokesman, told AFP.  "It's up to Pakistan to take action and find out where and how the contact was made by Lashkar-i-Jhangvi from inside Pakistan. They shouldn't wait for us to provide them with evidence."

Faizi said an Afghan investigation was under way but it is thought officials do not currently have evidence of the group's involvement.

Lashkar-i-Jhangvi, an outlawed militant group which has links to al-Qaeda and the Taliban, has been blamed for killing thousands of Shiites and whipping up sectarian hatred in Pakistan.

It also has reported links to Pakistani intelligence.  But there has been no confirmation of a purported claim of responsibility for the Kabul attacks from Lashkar-i-Jhangvi splinter group al-Alami.

Karzai's Western-backed administration accuses Pakistan of supporting the Taliban and associated militant groups that are waging a 10-year insurgency.

Officials and experts fear that Tuesday's attack may have been designed to whip up sectarian conflict in Afghanistan, which has not previously suffered the scale of such violence experienced in Iraq and Pakistan.