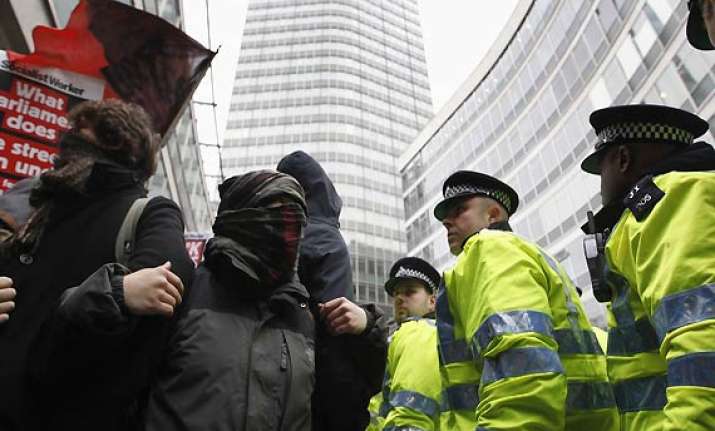 London, Nov 30: Airline passengers face chaos at immigration halls and school closures may force parents to take children with them to work Wednesday as Britain's biggest strike in decades threatens to wreak havoc.

Labor union leaders have warned that the strike may just be the start of a wave of disruption, with public workers opposing government plans to reform pensions, demands that they work longer before receiving a pension and contribute more money each month.

The unions claim as many as two million border agency workers, teachers, garbage collectors, firefighters and other public sector staff will join the 24-hour strike which begins shortly after midnight, plunging air travel and many basic services into disarray.

Many strikers will also be motivated by Britain's painful austerity measures, which on Tuesday saw the government extend a limit on public sector pay rises through 2014.

Airport operator BAA, which runs London's Heathrow airport, has warned that passengers could face 12-hour delays as immigration staff leave their posts. Education officials say nine out of 10 schools will close.

"For most people, the size of this strike will be unprecedented in their lifetime," said John Kelly, a professor of industrial relations at the Birkbeck University of London.

Kelly said that if around 1.5 million to 2 million workers join the strike it would be the largest one-day walkout since the early 1970s. If the numbers exceed that, it could match Britain's 1926 General Strike, he said.

Prime Minister David Cameron has implemented an 81 billion-pound ($126-billion) four-year program of public spending cuts, aiming to tackle debts he accuses the previous Labour Party government of racking up before the 2010 election.

The Office for Budget Responsibility -- Britain's national economic forecaster -- predicted Tuesday that 710,000 public sector jobs will be lost by 2017 under government spending cuts, higher than a previous estimate of 400,000.

"Not only is austerity hitting growth, the way it is being applied means unfairness is growing," said Dave Prentis, general secretary of UNISON, the country's largest trade union which represents about 1 million health, education and law enforcement staff.

"The government's cuts and austerity agenda is hitting women, the young, and making those who are less able to pay plug the deficit," he said.

Prentis has already warned that the strike could be followed by more industrial action in the new year -- particularly if no deal on pension reform is reached.

Ministers insist that Britain has no option but to reform its public pensions because people are living longer, and because the gap between contributions and pension payments could rise to 9 billion pounds per year by 2015.

Cameron insists that the deal being offered to public sector workers is fair and said his government wouldn't be swayed by the strike -- which ministers estimate will cost Britain as much as 500 million pounds ($770 million) in lost productivity.

"It is not going to achieve anything and it will be damaging to our economy," Cameron said Monday, during a visit to the northwestern English city of Manchester.

Education Secretary Michael Gove accused militant labor leaders of spoiling for a fight with the government -- evoking ex-Conservative Party leader Margaret Thatcher's battle with unions during the 1984-1985 miners' strike.

Gove said that some labor unions involved in the latest action had won the support of less than 50 percent of their members for the strike.

"They want scenes of industrial strife on our TV screens. They want to make economic recovery harder -- they want to provide a platform for confrontation just when we all need to pull together," Gove said Monday in a speech.

Kelly said that Wednesday's action will be large in scale because it is being limited to 24 hours. Many of the infamous disputes of the 1970s and 1980s were drawn out over weeks and months.

Ahead of the walkouts, Middle East carrier Etihad Airways and Greece's Aegean Airlines said they had already cancelled some flights into London scheduled for Wednesday. British Airways, Virgin Atlantic Airways and Cathay Pacific have all agreed to waive fees for passengers who want to rebook flights.

Gatwick Airport has warned travelers to be prepared for "significant disruption." Other parts of London's transportation network, including its subway, won't be affected.

Workers from across the public sector who are not planning to join the strike -- including some officials at Cameron's office -- are being drafted in to help staff immigration counters.