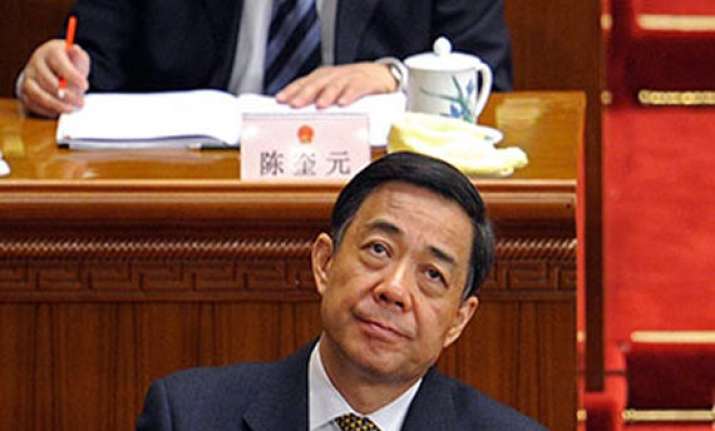 Beijing: Disgraced Chinese Communist party leader Bo Xilai was Friday accused in a court of taking bribes worth $3.5 million from two businessmen.
The accusation was made at the Jinan Intermediate People's Court in east China's Shandong province on the second day of the trial of Bo, accused of bribery, embezzlement and abuse of power, reports Xinhua.
The 64-year-old is a former secretary of the Chongqing Municipal Committee of the Communist Party of China and a former member of the Central Committee Political Bureau.
Prosecutors accuse Bo of accepting bribes worth 21.8 million yuan ($3.5 million) from businessmen Tang Xiaolin and Xu Ming and of embezzling funds from the Dalian municipal government.
He was also accused of abusing power when dealing with his wife Bogu Kailai's murder case and the attempted defection of his associate Wang Lijun in 2012.
On the second day of the trial, prosecutors presented evidence that Bo accepted a large sum of money and property from Xu Ming through his wife, Bogu Kailai, and his son, Bo Guagua.
In the morning session, prosecutors presented documentary evidence and played a video recording of Bogu Kailai's testimony Aug 10.
Prosecutors also read testimony by Bogu Kailai and Frenchman Patrick Devillers.
Video and audio evidence shown in court indicated that Xu Ming provided funds for Bogu Kailai to buy a villa in France worth 2.32 million euro and that Bo Xilai was aware of this.
In the afternoon session, evidence included testimony of witnesses, photographs of material evidence, confessions and the handwritten confessions of the defendant.
All of it showed that through his wife and son, Bo received almost 4.43 million yuan from Xu Ming to pay for international and domestic air tickets, accommodations and travelling expenses, to pay off credit card debt, and buy a Segway scooter.
Bo defended that the evidence was irrelevant, saying he had only a vague impression of amounts and no one had told him exactly how much money was spent.
His lawyers questioned the legality of the documentary evidence.
The prosecutor pointed out that the defendant had expressed conflicting views on key facts.