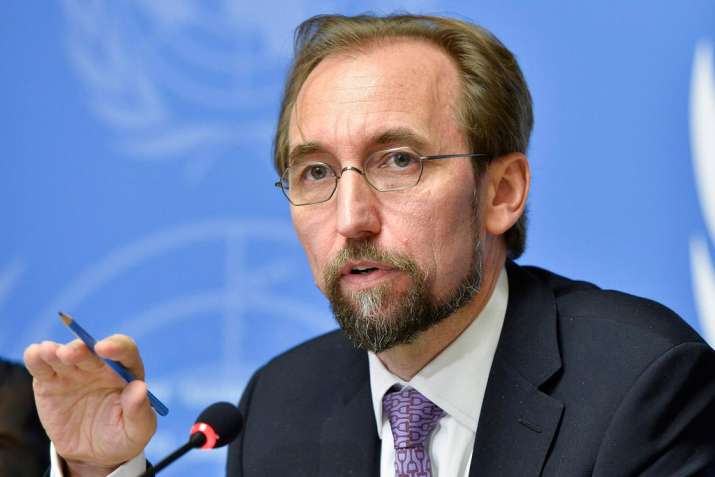 Voicing concern over alleged human rights violations, UN High Commissioner for Human Rights Zeid Ra'ad Al Hussein on Wednesday expressed "deep regret" at the failure of Indian and Pakistani authorities to grant the UN Human Rights Office access to Jammu and Kashmir and PoK respectively.
Reiterating his appeal for access, the High Commissioner said, "I deeply regret that our requests for access have not been granted."
"Since the latest outbreak of violence in early July, High Commissioner Zeid has been engaging with both Indian and Pakistani authorities and has sought access for a team to visit both Jammu and Kashmir and PoK to independently and thoroughly look into and verify allegations of violations of international law to be able to establish the facts accurately, particularly given the conflicting and competing claims on both sides," a press release by the office of High Commissioner said. 
Zeid said it was "unfortunate" that access hasn't been granted yet considering "the seriousness of the allegations of the use of excessive force, allegations of state sponsorship of violence, as well as the number of people killed and the very large number of people injured." 
The human rights office wants its team on the ground in Kashmir to interview victims, witnesses and security forces and to independently assess the situation. 
"We requested full and unhindered access to the affected population, to interview a variety of individuals on the ground, including victims, witnesses, security forces, and with access to relevant documentation. Such access would enable us to provide an independent and fact-based analysis of the situation," he said in a statement. 
"Without access, we can only fear the worst," Zeid added. "I reiterate our request for access. 
India and Pakistan have been engaged in a war of words over the situation in Kashmir where violent protests have that left more than 60 people dead after the killing of Hizbul commander Burhan Wani.