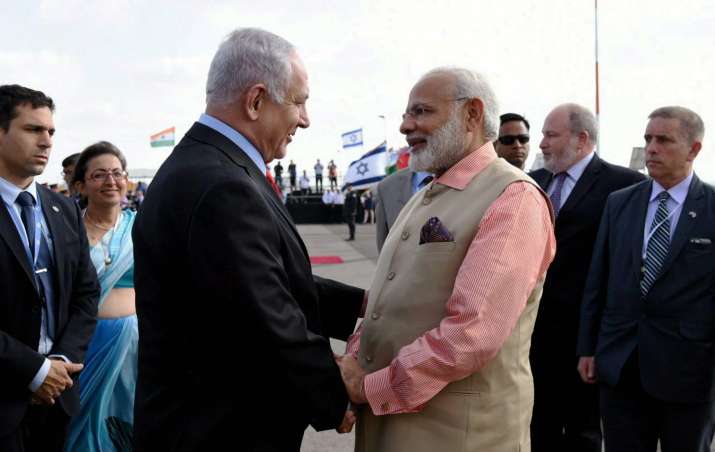 Prime Minister Narendra Modi on Thursday concluded his historic three-day visit to Israel during which he discussed key issues like terrorism and economic cooperation with the top Israeli leadership. Modi, who became the first Indian Prime Minister to visit Israel, left for the German city of Hamburg to attend the G20 Summit after wrapping up his visit here. The Prime Minister, who was accompanied by his Israeli counterpart Benjamin Netanyahu on his entire trip, thanked the people and the government of the Jewish nation before he emplaned for Hamburg.
"I thank the people and Government of Israel for their hospitality. This successful visit will add more energy to India-Israel relations," Modi said in a tweet. 
"A historic visit, filled with many firsts and the promise of future ends as Prime Minister Benjamin Netanyahu goes beyond protocol again to bid farewell to Prime Minister (Narendra Modi)," External Affairs Ministry Spokesperson Gopal Baglay said in a tweet.
"As journey concludes, voyage begins. With sea of opportunities ahead, Prime Minister Narendra Modi completes ground-breaking visit. #IndiaIsraelFriendship," he said in another tweet. 
Modi will attend the G-20 Summit being hosted by Germany on July 7-8 in Hamburg. The theme chosen for this year is 'Shaping an Inter- connected World'. 
Modi's historic visit sees India, Israel elevate ties to 'strategic partnership' level
Modi, who became the first Indian prime minister to visit the Jewish nation, signed seven agreements to boost bilateral cooperation in key areas like science and technology, water, research and space. 
The historic visit saw India and Israel elevate their ties to the strategic partnership level with both vowing to do "much more together" to combat growing radicalisation and terrorism while pitching for strong action against those financing and providing sanctuaries to terror groups. 
During the visit, Modi and his Israeli counterpart Benjamin Netanyahu discussed the Israeli-Palestinian peace process and underlined the need for the establishment of a just and durable peace in the region that has been marred by years of conflict. 
This year, India and Israel are marking 25 years of their diplomatic relations. 
Netanyahu accompanied Modi almost like a shadow since Modi landed here on the first visit by an Indian premier to the Jewish state, with both of them hugging each other at every possible opportunity. The two leaders also constantly referred to each other as "my friend" and used superlatives while appreciating each other. 
Barefoot stroll on beach
Modi and Netanyahu today made waves online with their camaraderie as a barefoot stroll on the beach, a discussion in ankle deep water and a toast to life with desalinated water reflected the warmth in their relationship. The bonhomie between the two leaders was on ample display as they witnessed the demonstration of sea water purification technology pioneered by Israel at a water desalination unit on the Olga Beach in north Israel.
The two leaders spent some time on the beach and had a long chat standing ankle deep in the waters with waves hitting their feet. Modi had his trousers folded up as he entered the waters while Netanyahu came smartly dressed in casuals with a polo shirt. 
Later, Netanyahu also gifted Modi a signed picture of them strolling barefoot at the Olga beach in northern Israel with a message hailing their friendship. 
"To Prime Minister Narendra Modi, with deepest friendship on your historic visit to Israel," Modi tweeted the picture gifted to him by his Israeli counterpart.
Modi woos Israel Inc
Modi invited the Israeli industry to participate in 'Startup India' initiative, saying his government has done a lot to improve 
the ease of doing business and is positioning the country as a global manufacturing hub. 
"We have resolved number of regulatory and policy issues facing businesses and companies. We've worked very sincerely for ease of doing business," Modi said at the launch of India- Israel CEO's Forum here. 
Memorandums of Understanding worth over USD 5 billion were signed during the Prime Minister's visit. 
Referring to the Goods and Services Tax (GST), Modi said it is by far the biggest business and economic reform of India. 
"Now, we are moving towards modern tax regime, which is transparent, stable and predictable," he said. 
Modi, who is the first Indian Prime Minister to visit Israel, further said his government was "positioning" India as a global manufacturing hub with a view to take advantage of the young population. He also talked about country's flagship programme 'Make In India'.