Follow us on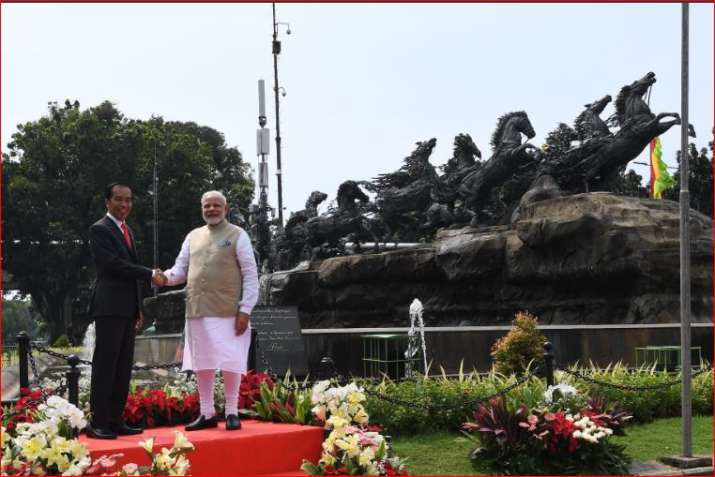 India and Indonesia on Wednesday signed 15 agreements including defence cooperation, elevating the bilateral ties between the two countries to Comprehensive Strategic Partnership.
The two countries also called for freedom of navigation in the strategic Indo-Pacific region.
Strengthening the ties between the two countries, Prime Minister Narendra Modi held "productive discussions" with President Joko Widodo. In a joint press statement after the meeting, Modi said India and Indonesia have agreed to elevate their ties to Comprehensive Strategic Partnership. 
PM Modi, who arrived in Jakarta last night on his first-ever official visit to Indonesia, was accorded a red carpet welcome on his arrival at the Merdeka palace, one of the presidential palaces in Indonesia, Tuesday morning. 
The two leaders discussed areas of strategic cooperation, ways towards ensuring better economic ties, closer cultural relations as well as regional and global issues of mutual interest. 
"Held productive discussions with President Joko Widodo. Glad that ties between India and Indonesia are gaining strong momentum. We discussed areas of strategic cooperation, ways towards ensuring better economic ties and closer cultural relations between our nations," Modi tweeted. 
After his meeting with President Joko Widodo, PM Modi said that India's Act East Policy and the vision of SAGAR (Security and Growth for all in the Region) matches Widodo's Maritime Fulcrum Vision. 
"As mutual partners and neighbours, our worries are similar. It is our duty to ensure maritime security and safety. This is also for the safety of our economic interests," he added. 
"In the Indo-Pacific region, we, as partners, have mutual interests in each other's progress and well-being and that's why we have agreed upon mutual vision and principles for the Indo-Pacific region," he said. 
Both leaders reiterated the importance of achieving a peaceful and prosperous Indo-Pacific region where sovereignty, international law, freedom of navigation and overflight, sustainable development and an open and fair trade and investment system are respected, the statement said, amidst China's flexing of its military muscles in the East and South China seas. 
Modi also strongly condemned the recent terror strikes on three churches in Indonesia's second-largest city Surabaya, and said India stands resolutely with Jakarta in the fight against terrorism. 
A the joint statement, the two leaders reiterated their strong condemnation of terrorism in all its forms and manifestations including cross-border terrorism and terror-related incidents in Indonesia and India and affirmed that perpetrators of these heinous acts must be brought to justice.
 
They called upon all countries to work towards disrupting terrorist networks and their financing channels, and halting cross-border movement of terrorists from terror organisations as well as other terrorist groups threatening peace and security in respective region. The statement did not name any country. 
They also shared the view on the imperative need to eradicate radicalism and reiterated the importance of promoting peaceful pluralism. 
The two countries signed 15 agreements including on the cooperation in the field of defence, space, science and technology, railways and health. 
Modi said that India and Indonesia will double their efforts to take bilateral trade to USD 50 billion by 2025. In 2017, bilateral trade amounted to over USD 18 billion. 
Recalling the visit of ASEAN leaders in January to attend the Republic Day parade in New Delhi, Modi said India-ASEAN partnership can become a guarantee of peace not only in Indo-Pacific region but also beyond it. 
The joint statement said the two leaders welcomed the adoption of the 'Shared Vision on Maritime Cooperation in the Indo-Pacific between India and Indonesia' with a strong belief that the two sides could develop further their cooperation in maritime sector which can be a force of immense stability in the region. 
"The two leaders welcomed the growing convergence in the political, strategic, defence, security and economic fields between the two countries," it said. 
The document, the first with any ASEAN country, outlines areas of maritime cooperation and envisages security architecture in the Indo-Pacific region, External Affairs Ministry Spokesperson Raveesh Kumar said. 
They reaffirmed their commitment in the field of defence, with the signing of Defence Cooperation Agreement between two sides. The pact will further strengthen and renew the existing cooperation for the mutual benefit of the two countries and the region, the statement said. 
They agreed to further enhance mutual trust through regular meetings and staff talks between their armies, navies and air forces. They also directed officials to expand mutually beneficial collaboration between their defence industries, including for joint production of equipment. 
Both sides agreed to work intensively for the early conclusion of the Regional Comprehensive Economic Partnership and reiterated that it needs to be comprehensive, fair and balanced with benefit to all member states. 
They welcomed potential cooperation in the area of peaceful use of nuclear energy and looked forward to the early renewal of an agreement on cooperation regarding the utilisation of nuclear energy for peaceful purposes. 
Both sides agreed to intensify cooperation in the fields of culture, education, tourism, films and people-to-people exchanges.
Watch Video: India, Indonesia sign 15 agreements including defence cooperation
(With PTI inputs)