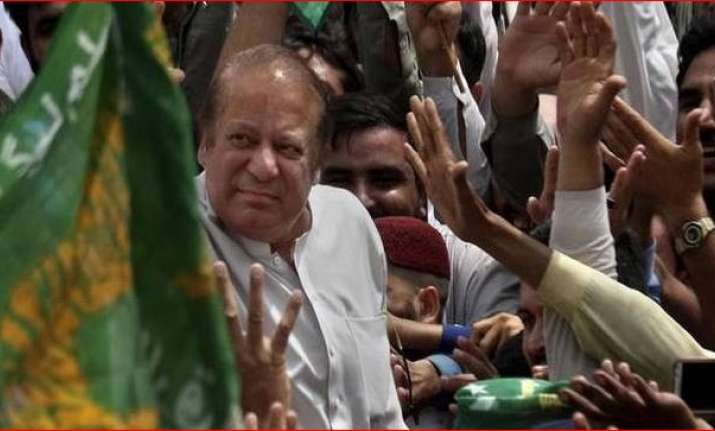 Pakistan's ousted prime minister Nawaz Sharif today urged people to guard their mandate so that elected representatives are not removed through "undemocratic" means, days after he was disqualified by the Supreme Court for holding office over the Panama Papers scandal.  
Sharif, who was forced to quit before time for the record third time, addressed a huge rally in downtown Rawalpindi, after starting his journey from Islamabad to Lahore to project his political strength. 
Sharif has resumed a long road trip back to his hometown, Lahore, via the Grand Trunk (GT) Road after an overnight stay in Rawalpindi as his procession enters its second day on the streets. He held a meeting with party leaders at Punjab House there, Rawalpindi, before starting his journey.  Sources in Pakistan Muslim League-Nawaz (PML-N) said that Sharif was not happy with the turnout in the city and asked party leaders to make more targeted efforts to bring out the supporters. 
PML-N leaders are in the process of making arrangements for more supporters to attend the rally, and as the convoy sets off towards Lahore once again.
 
Sharif, 67, said that it was pity that none of the prime ministers in the 70-year history of the country have been allowed to complete their tenure. 
"Every prime minister in this country was given one-and- a-half-year tenure, on average, to govern. Some were executed, some jailed, some handcuffed, and some exiled," he said.  He asked the people to make a pledge to guard their mandate so that elected representative are not removed through undemocratic ways. 
"Make a promise me that you would get your mandate respected. Promise me you won't allow your prime minister to be humiliated this way," he said. 
He warned the supporters that their elected leaders would again be sacked in future if "you do not protect your rights".  "It has happened with me for the third time. Is this not an insult to your vote?" he said. 
He criticised the court verdict by saying that the judges said there was no charge of corruption, then asked why he had been disqualified if there is no case of misappropriation. "I leave this for history to determine," said Sharif.  He posed a question the gathering, if they accept the decision. The public responded with big "No", prompting Sharif to say: "One court gave its decision, now this people court is given its decision". 
He termed the gathering as verdict by the people court ?  a referendum. 
"This gathering here serves as a referendum. The court of the people of Pakistan has given its verdict in my favour," he said. 
Sharif also announced that he respects the decision despite serious reservations. He said he was not struggling for his restoration. 
"I am going home and I do not want you to get me restored. But I want you to stand with me for the development and betterment of the country," he said.  Later the crowd dispersed peacefully while Sharif went to the Punjab House in Rawalpindi to spend the night.  Yesterday, it took him more than 12 hours to cover about 30 km distance which takes about half an hour under normal circumstances. 
Last month, a five-member apex bench had found Sharif "unfit to hold office", ruling that he had been "dishonest to the parliament and the courts in not disclosing his employment in the Dubai-based Capital Free Zone Establishment company in his 2013 nomination papers."