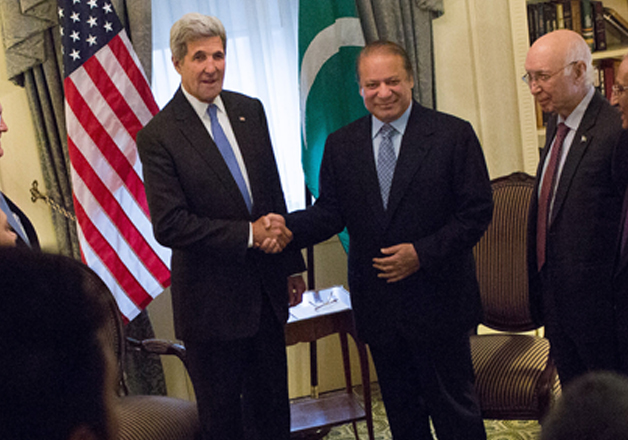 In the backdrop of ongoing war of words with India over Kashmir issue, Pakistan has now sought the intervention of United States to resolve issues between Islamabad and New Delhi.
Pakistan's news website Dawn reported that Premier Nawaz Sharif has urged the US to help find a resolution to the disputes between the two south Asian neighbouring countries.
Sharif raised the issue during his meeting with Secretary of State John Kerry in New York on Monday on the sidelines of the ongoing 71st UN General Assembly Session.
"Pakistan has always fought terrorism as a moral obligation. I have always reached out to neighbouring countries for regional peace, stability and prosperity. I still remember (former) president (Bill) Clinton's promise that the US will play its role to help out in resolving bilateral disputes and issues between Pakistan and India," the report quoted Sharif as saying. 
"I expect the US administration and Secretary Kerry to use his good offices to help resolve issues between Pakistan and India," the Premier added.
Advisor on Foreign Affairs Sartaj Aziz, Special Assistant on Foreign Affairs Syed Tariq Fatemi and Foreign Secretary Aizaz Ahmed Chaudhry were also present in the meeting.
Sharif emphasised that strong relations between Pakistan and the US remained a mutual desire and this partnership was critical to ensuring regional peace and stability. 
The Prime Minister arrived in New York on Sunday. He is scheduled to address the session on Wednesday where he would specifically focus on the current situation in Jammu and Kashmir. 
He will also hold bilateral meetings with President of Iran, Prime Ministers of Britain, Japan, New Zealand, Nepal, Romania and UN Secretary General Ban Ki-moon.
Kashmir issue to dominate Sharif's UNGA address tomorrow
Meanwhile, PTI reported that Kashmir issue will dominate  Sharif's address to the UN General Assembly here tomorrow that comes at a time of heightened tensions between India and Pakistan following the terror attack in Uri. 
The General Debate of the UN General Assembly opens today, with US President Barack Obama making his final appearance as Commander-in-Chief at the 71st session. 
Sharif will address world leaders from the UNGA podium in the morning session tomorrow. 
While Pakistan has raised the Kashmir issue at the high-level segments of the General Assembly and other UN platforms in previous years, Sharif appears set to take an even more aggressive stand on Kashmir at the world body, having vowed in Pakistan to "emphatically highlight" the issue and the alleged human rights abuses by India. 
"Pakistan will continue to extend moral, diplomatic and political support to Kashmiris," Sharif had said last week, alleging that atrocities in Kashmir had touched extremes. 
Last year Sharif, raising the Kashmir issue in the General Assembly, had proposed a four-point "peace initiative" with India on Kashmir. 
In a strong response, External Affairs Minister Sushma Swaraj had said in her address that India does not need four points but just one that Pakistan should "give up terrorism and let us sit down and talk". 
The UNGA session comes at a time when tensions between the two nations have risen following the Uri attack in which the heavily-armed four militants stormed the battalion headquarters of the Indian Army in the wee hours of Sunday, killing 18 jawans and injuring 19 other personnel. 
Director General Military Operations (DGMO) Ranbir Singh has said that the terrorists had certain items that confirm their Pakistani identity. 
Swaraj will address the General Assembly on September 26 and a sharp response is expected from her to Sharif's rhetoric on Kashmir.