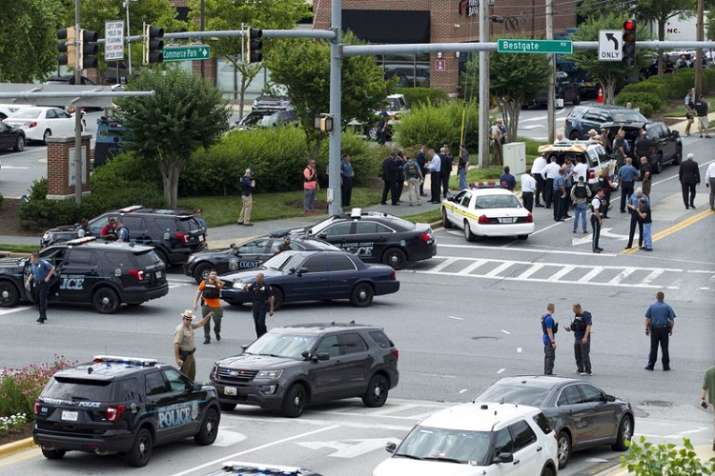 Five people have been killed while several others have been wounded as gunman opened fire in a targeted attack on a newspaper office in Maryland capital Annapolis on Thursday. The suspect, a white adult male, has been taken into custody.
According to police and witnesses, this appeared to be one of the deadliest attacks on journalists in the history of US.
A reporter for the Capital Gazette, Phil Davis, tweeted that a "gunman shot through the glass door to the office and opened fire on multiple employees." He said several people were killed. "There is nothing more terrifying than hearing multiple people get shot while you're under your desk and then hear the gunman reload," Davis said.
Authorities said the man entered the building and looked for his victims. He threw smoke grenades and fired a shotgun at his victims. An Acting Police Chief declined to identify the suspect but said he was a Maryland resident and search warrants were being sought for his home.
The attacker had mutilated his fingers in an apparent attempt to make it harder to identify him, according to a law enforcement official who was not authorized to discuss the investigation and spoke on condition of anonymity. Another official who also spoke on condition of anonymity said investigators identified the man using facial recognition technology.
The shooting was followed by immediate security at news organizations in the nation's media capital.
The gunman, whose name was not immediately released, was believed to have used a shotgun, according to a US official who was briefed on the investigation but not authorized to discuss it publicly and spoke on condition of anonymity. The gunman was not carrying any identification, authorities said.
Five deaths have been confirmed while two people have received superficial wounds. Authorities had said earlier that several people were gravely wounded.
A police spokesman said that the officers raced to the scene, arrived in 60 seconds and took the gunman into custody without an exchange of gunfire.
About 170 people in all were evacuated from the building as a multitude of police cars and other emergency vehicles converged on the scene. People could be seen leaving the building with their hands up.
The newspaper is part of Capital Gazette Communications, which also publishes the Maryland Gazette.
New York police sent counterterrorism teams to news organizations around the city in a move, which the authority said was a precaution, not prompted by any specific threat.