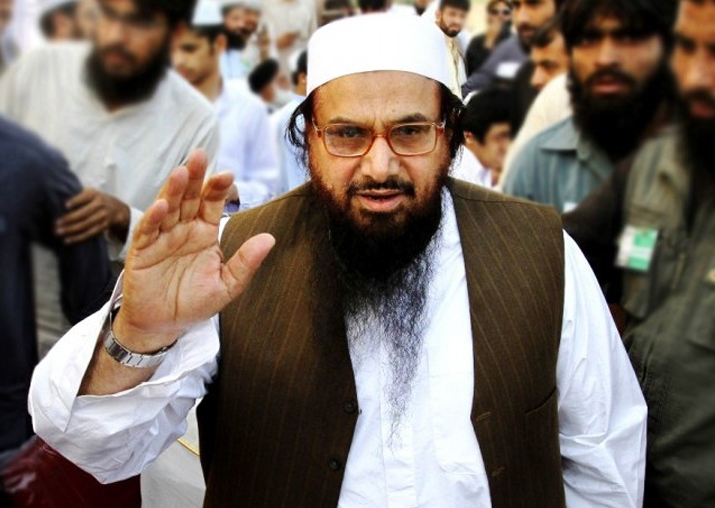 Jamaat-ud Dawa (JuD) chief terrorist and Mumbai attack mastermind Hafiz Saeed has said that America cannot drone strike his outfit's headquarters in Lahore.
Saeed, whose JuD and Falah-i-Insaniyat Foundation (FIF) have been banned from collecting donations, said that he has not received any formal communication from the federal government regarding its decision which he said was taken under America's pressure.
Saeed's remarks comes hours after JuD said that it will serve a legal notice to Defence Minister Khurram Dastgir Khan for "defaming" it.
Dastgir had said that the action against the JuD was not taken due to mounting pressure from the US, adding that the move was aimed at preventing terrorists from opening fire on schoolchildren again.
In a statement, the JuD said, "World knows who is behind the steps against JuD and FIF. Our rulers are reluctant to mention the involvement of India in terrorist activities in Pakistan. Efforts are being made to please external lords by propagating against those forces that have actively played role in Pakistan's defence."
The Pakistan government had earlier this week banned JuD and FIF from getting donations following US President Donald Trump's outburst against Islamabad's sheltering of terrorists.
Further, Saeed blasted the government for not jumping to the defence of Palestinian envoy who has been recalled by his country for attending an event organised by the JuD last month.
Last week, Palestine had recalled in Pakistani envoy Walid Abu Ali after India strongly conveyed to Palestine that its ambassador attending JuD's event is 'unacceptable'.
On Kashmir, Saeed said that "no pressure will deter them to work for Kashmir cause".
Saeed is a major irritant in the already strained relationship between India and Pakistan. He runs the Lahore-based JuD which he claims to be running for humanitarian charity. FIF is also a charitable wing of the group. The organisation has been blacklisted by the US, which has described it as a foreign terrorist organisation.
Saeed even carries a bounty of USD 10 million announced by the US for his role in terror activities. 
His group, JuD is believed to be the front organisation for the LeT which carried out the 2008 Mumbai terror attack in which 166 people were killed.