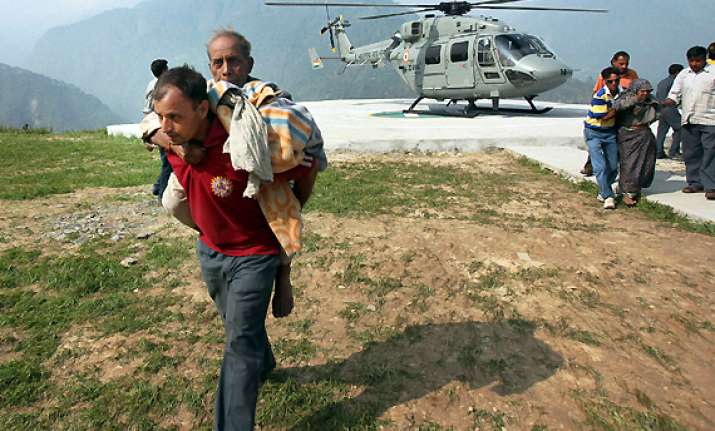 Dehradun, June 22 : Amidst tales of unscrupulous shopkeepers fleecing the last dime out of hapless pilgrims, small groups of volunteers are trying to bring some succour to the distraught by providing them with water and food and collecting funds for flood victims.
The denizens were in strength at the Jolly Grant Airport and at the Sahasradhara helipad, handing out water bottles and serving food to those who have camped in the city as they wait for news of their near and dear ones.
They were also on the streets, collecting donation for the Chief Minister's Fund, contributing their mite to the collective effort to provide relief.
Outside the Jolly Grant Hospital, some of them sit in a pick-up truck with bunches of bananas and water bottles for delivery to those rescued from flash-flood hit areas.
Amidst the chaos which is the aftermath of a disaster, the volunteers were bringing a sense of calm to the rescue efforts.
As the friends and family of those missing rush from one official to another, chase every government vehicle and vent their spleen at what some condemned was the total absence of sensitivity on part of the administration, the volunteers were there, patiently waiting with a glass of water, or lime juice, and food.
"We have been here since morning. Me and my friends thought we should be a part of the effort," said Sumit as he went with his friends from room to room at the Jolly Grant Hospital, handing out water bottles and inquiring about the health of survivors admitted there.
Manning their stations from dawn till dusk, when the helicopters cease their sorties for the day, these volunteers are almost one with the harried numbers outside the airport in their agony and anxiety.
One such group was made of volunteers sent by Shiromani Gurdwara Prabandhak Committee, which has set up a langar (community kitchen) outside Jolly Grant Airport.
The volunteers at this kiosk are local youth who are giving their assistance to those whose only thoughts are about their family members stranded up in the hills.
But the response is not all local.
If the Chief Ministers of Uttar Pradesh, Gujarat and several other states have made fund contributions to Uttarakhand, people from other parts of the country have not fallen behind in joining the effort.
JS Dhillon and Harwinder Singh, two of the volunteers at the SGPC kiosk, are from Jind district in Haryana.They arrived here three days back to pitch in with their time and labour.
"We came here after being asked to do so by our Gurdwara Dhamtan Sahib elders.We will be here as long as there are people here looking for their missing relatives," Dhillon said. Students of DAV College also initiated a drive to to collect money for relief operations.
About 20-odd students, holding up a banner calling for aid, began a march from their college, urging people to contribute.
"Today is the final day of our drive, we had started yesterday.We will send the money to the Chief Minister's relief fund," said one of the students as a woman puts a Rs 50 note inside the collection box.