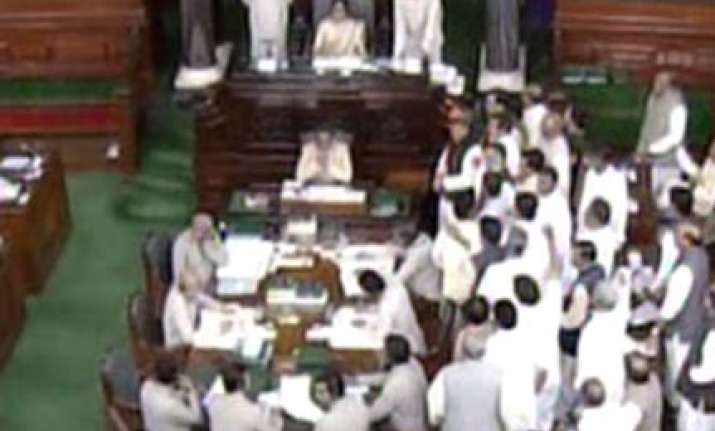 The hike in petrol and diesel rates united the entire opposition in Parliament  forcing adjournment of both Houses till 2 pm.
It was trouble from the word go in Lok Sabha and Rajya Sabha which saw opposition members on their feet demanding rollback of the petrol and diesel price hike that resulted from Finance Minister Pranab Mukherjee's Budget proposals.
 In the Lok Sabha, opposition parties, including BJP, JD-U, Left parties, SP, BSP and others, were on their feet as soon as the House met for the day. They were protesting against rise in prices of essential commodities.
 SP members trooped into the well and raised slogans. They were joined by BJP members who shouted, "Yeh sarkar nikammi hai (This government is incompetent)" and "jo sarkar nikammi hai woh sarkar badalni hai (An incompetent government needs to be changed)".
Amid the din, Speaker Meira Kumar adjourned the House till 12 noon. As the House reassembled at 12 noon, the uproar continued and the Deputy Speaker adjourned the House till 2 pm
 In the Rajya Sabha, BJP, SP, AIADMK, BSP and Left members were on their feet immediately after obituary references were made and a member took oath.
The Opposition benches shouted slogans demanding rollback of the Rs 2.71 a litre hike in petrol price and Rs 2.55 per litre increase in diesel rates.
Chairman Hamid Ansari pleaded for Question Hour to be taken up. "Please allow Question Hour to proceed," he said and called the first listed question of the day.
As the din continued, Ansari adjourned the House till noon.
The Opposition parties had warned that they would not allow Parliament to function till fuel price hike was rolled back. PTI