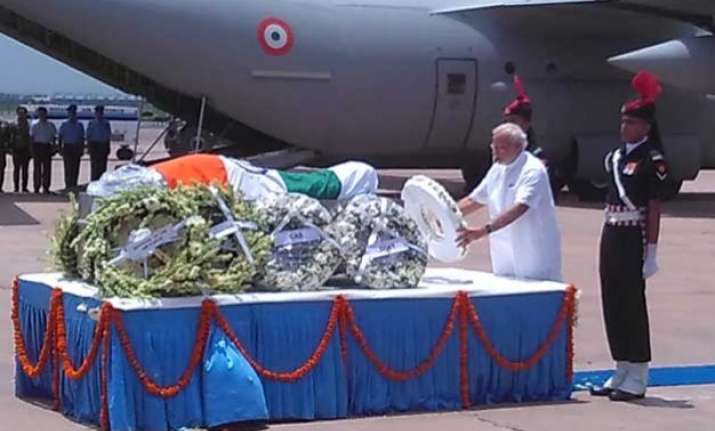 Dr. APJ Abdul Kalam's casket has been placed at his 10, Rajaji Marg residence in Delhi so that people can pay their last respect to their beloved former President.
His funeral will be held in Rameswaram, his birth place in Tamil Nadu, on July 30 with full military honours.
Home Ministry sources said Kalam would be given a state funeral and the last rites would be held at 11 AM on Thursday.
New Delhi: A three-judge bench was today set up in the Supreme Court to decide the fate of Yakub Memon, the lone death row convict in 1993 Mumbai blasts case, after a two-judge bench was divided on his plea seeking stay of his execution scheduled on July 30.
In the wake of disagreement between Justices A R Dave and Kurian Joseph on the issue, the matter was referred to Chief Justice of India H L Dattu, who constituted a larger bench of Justices Dipak Misra, Prafulla C Pant and Amitava Roy to decide the destiny of Memon who will turn 53 on Thursday.  
Dinanagar (Punjab): The global positioning system (GPS) sets recovered from the three terrorists killed here clearly indicates to a Pakistan link in Monday's terror attack in Punjab's Dinanagar town, sources said on Tuesday.
The terrorists were killed by the special units of the Punjab Police after fierce gun-battle lasting over 11 hours.
Mumbai:  In a fresh crackdown on Saharas, regulator Sebi today cancelled the registration of Sahara Mutual Fund saying it was no longer 'fit and proper' to carry out this business and ordered transfer of its operations to another fund house.
Sahara group has been engaged in a long-running regulatory and legal battle with Sebi ever since the regulator ordered refund of a massive amount of over Rs 24,000 crore by two Sahara entities. Recently, Sebi had also cancelled the Portfolio Management licence of a Sahara firm.
Copenhagen (Denmark): Indian women's recurve team earned Olympic quota for 2016 Rio Games while the men's trio failed to advance after squandering a handsome lead at the archery World Championships, here today.
Pitted against seventh seed Germany, Indian trio of Deepika Kumari, Laxmi Rani Majhi and Rimil Buriuly showed nerves of steel to bounce back from 1-3 to coast to a 5-3 win and make the last eight, the yardstick for making the Olympics cut.