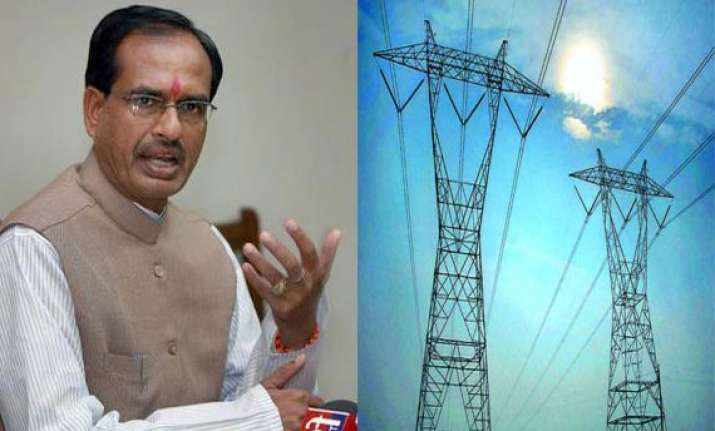 New Delhi: Enthused by swift green clearance to a "number of projects" in Madhya Pradesh, Chief Minister Shivraj Singh Chouhan today asserted that the state would be power surplus in next four years and supply electricity to others.
Outlining future development plans of MP which was once among the least developed BIMARU states, Chouhan said a number of its projects, which were neglected during the UPA rule at the Centre, were back on track under the NDA government.
"I can say with confidence that the next power capital of India will be Madhya Pradesh. When we started, there was 2,900 mega watts (MW) power. Today we are generating 14,000 MW. We have planned to further increase it by at least 4,000 MW. By 2018, there will be power generation of 20,000 MW.
"Of these, 2,500 MW electricity generation will be solar and wind power based. We will be power surplus state and we will help those states who have less electricity," he told PTI in an interview here.
He said development work in the whole country including Madhya Pradesh had slowed down during UPA's tenure.
"We were given coal blocks and there were power plants.  But stage I (screening) and stage II (appraisal) environmental clearance did not happen. There was a case of 'go' and 'no go' areas. There was a policy paralysis.
"UPA government was responsible for this. I feel this not as a Chief Minister but as a common man. There has to be a balance between development and environment. We can go back to stone age if you say no to all development work," Chouhan said.
The Chief Minister of the BJP-ruled state said there has been increase in development work after NDA government took charge at the centre.
"Mainly it is Narendra Modiji's vision. But all his other ministers are also taking swift decisions. We had met Environment Minister
Prakash Javadekar
some time back to push for works pending due to want of environmental clearances.  They will be given clearances now," he hoped.
Chouhan said Madhya Pradesh was a backward state, a 'BIMARU' state in terms of growth and other development parameters. "But now the growth rate of MP has gone up.  "This year it has been 11.02 per cent which is the highest in the country. We have not gone below 9-10 per cent in the past 6-7 years. Agriculture growth has been 24.99 per cent," he said.
The CM said the state government is giving more emphasis on development of infrastructure, skilled manpower and promoting micro, small and medium enterprises.
"We want more big industries to come up. There are some big groups in the state. Our thrust is on development of skilled manpower to cater to the industries who are already operating or plan to set up their plants in the state.
"Especially Bhopal will be the Silicon Valley of the country. There are lots of proposed investments from information technology (IT) firms there," he said.
Chouhan said he is taking up the matter of poor condition of National Highways (NHs) in the state with the Centre.
"Our National Highways are in bad shape. We had proposed to the UPA government that NHs may be denotified and we will make them better. But it is unfortunate that they did not make the NHs nor did they allow us to do it. But now
Nitin Gadkari
, (Road, Transport and Highways Minister) is there and the condition of National Highways will improve," he added.