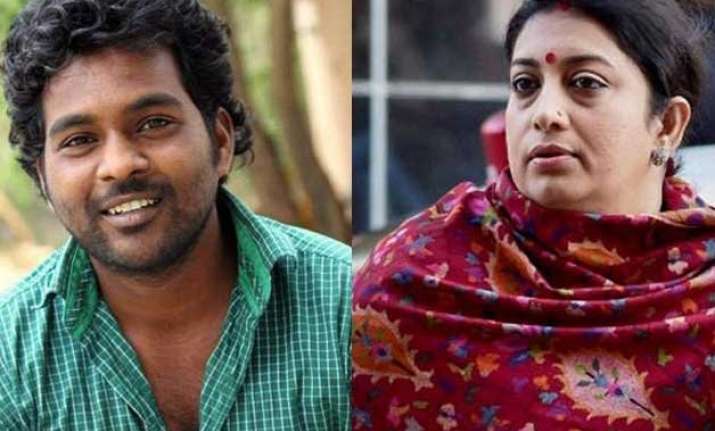 Hyderabad: Union HRD Minister Smriti Irani today spoke to the mother of Rohit Vemula, the Dali scholar who committed suicide, over phone and assured her that 'justice' will be done in this case.
Smriti Irani told Rohit's mother that appropriate action will be taken on the basis of the report of the judicial inquiry.
The HRD ministry today decided to set up a Judicial Commission to look into the sequence of events leading to Rohith Vemula's suicide.
The judicial commission will submit its report within 3 months.
Meanwhile, the crisis at the University of Hyderabad intensified today after protesters refused to end their strike until the vice-chancellor quits over Dalit scholar Rohith Vemula suicide.
The decision to continue their strike came even as the university decided to revoke the suspension of four fellow students of Rohith who were punished along with him for clashing with members of the AVBP.
Vijaya Kumar, one of the students whose suspension was revoked, said this was not enough.
'"The VC must go. This revocation is a welcome decision. But we can't celebrate it because Rohith is not there. We are not able to accept your decision.
We have other demands like appropriate compensation and a job for one of the members of Rohith's family," he said.
On the other hand, the SC/ST staff of the university too mounted pressure on vice-chancellor Podile Appa Rao with more members giving up their posts. This morning, the number of professor resigning from their posts in University of Hyderabad reached 14.
The professors are members of the University of Hyderabad SC/ST Teachers and Officers Forum, including professors and lecturers, resigned from their administrative positions in a bid to show solidarity with the protesting students over Rohith suicide.
Earlier on Thursday, at least, 13 faculty members - including Professor V Krishna, controller of exams, Chief Medical Officer Dr Ravendra Kumar, 10 hostel wardens and chief warden Nagaraju - put in their papers from their respective posts.
"We are about 40 people in Hyderabad University's SC/ST faculty forum, of which 12-13 hold administrative posts. We thought that the government doesn't require our administrative acumen, so decided to lay down admin posts," Kumar said.
Seven members of the Joint Action Committee for Social Justice are on an indefinite hunger strike for fulfilment of its demands following Rohith's suicide.
Meanwhile, the letter purportedly written by Rohith before he committed suicide has been sent to the forensic lab for analysis.
"The letter was sent to forensic lab for handwriting match and other analysis. It would take a few days to get the report," police sources said.
Rohith's body was found hanging at one of the hostel rooms on the University of Hyderabad campus on Sunday. Rohith and four other students were earlier suspended from the university following an alleged assault on an ABVP leader. Later, the suspension was revoked but they were barred from accessing hostel facilities.
Cyberabad police has named Labour Minister Bandaru Dattatreya, Vice Chancellor Appa Rao, Telangana BJP MLC Ramachandra Rao and two students in the FIR filed in the suicide case.
HRD team likely to submit report today
The report of the two-member fact-finding committee set up by the HRD Ministry to look into the suicide by Rohith is learnt to be in the final stages of preparation and is likely to be submitted today.
"It is expected that the report would be handed over to HRD Minister Smriti Irani tomorrow (Friday)," sources said, adding that the panel spoke to a cross section of stakeholders including 70-80 individuals, including students, academicians and others during its Hyderabad visit.
The report, sources said, would dwell on the role of the University authorities, who have been blamed for the suicide, and systemic aspects to ensure such incidents do not recur.
The HRD Ministry had earlier this week constituted the two-member fact-finding team comprising Shakila T Shamsu, OSD and a Deputy Secretary-level officer Surat Singh to look into the suicide of dalit research scholar Rohith Vemula at Hyderabad Central University which has set off a politicalstorm.