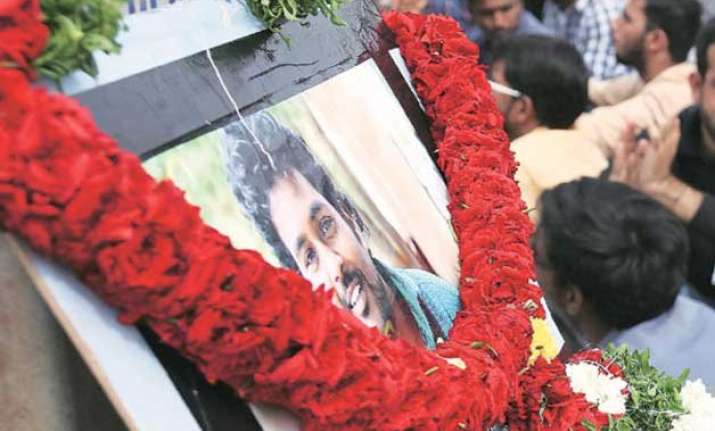 Hyderabad: Two days after Rohith Vemula, a research scholar at the University of Hyderabad, committed suicide in his hostel room, the Executive Council of the University of Hyderabad has decided to revoke the punishment of the four suspended students with immediate effect.
In a note released on Thursday, the Executive Council said: "The council after taking into account the extraordinary situation prevailing in the university, and after discussing the issue in detail, has resolved to terminate the punishment imposed on the students concerned with immediate effect".
Five students, including Rohith, were suspended from the university in December last year.  Their suspension was a result of a complaint filed by ABVP student leader Susheel Kumar who had accused these scholars and Ambedkar Students' Association (ASA) members of assaulting him.
The university's latest move follows intense protests against university officials and the central government since the news of Rohith's suicide got out. Politicians cutting across party lines have made a beeline to the university to pledge their support to the protesting students and attack the central government of high-handedness.
The four students – Sontha Prasanth, Pepapudi Vijay Kumar, Sheshaiah Chemudugunta and Velpula Sunkanna – were barred from entering the hostel, library, mess and other common areas within the university premises post the December order.
The announcement of the suspension being revoked was today welcomed by the agitating students with cheer. However, they vowed to continue their agitation against the central government till it met their demands which included the ouster of university's vice-chancellor Appa Rao Podile.
Yesterday, Union Minister for Human Resource Development Smriti Irani had said that there was a malicious attempt by certain quarters to portray the entire incident as a caste conflict between Dalits and the others.
Addressing the media yesterday, Irani said that at various stages – from Proctoral Committee to Executive Council (EC) to sub-committee of EC – senior Dalit professors of the university were involved in the decision to expel the five students.
Irani's comments drew fire from university members with ten professors of the University belonging to the Scheduled Castes and Scheduled Tribes minority resigning from their administrative posts over alleged "misrepresentation" of facts by the Union minister.  
The teachers contested Irani's claims saying there had been no representation from the Dalits in the executive council since the university's inception.