The top Congress leadership has not accepted Navjot Singh Sidhu's resignation, is adopting a wait and watch policy and has asked the local party leadership to resolve the matter. Sidhu's resignation as state party chief has intensified the crisis in the Punjab Congress and triggered discussions and deliberations in the party. Sidhu's resignation was followed by a series of resignations by leaders and ministers. Sidhu was appointed as the President of the Punjab Pradesh Congress Committee (PPCC) on July 23.
Punjab Congress Crisis LIVE
02:24 pm: Punjab govt may soon appoint new PCC chief, say sources, adding decision in this regard will be taken after Harish Chaudhary returns to Delhi
01:59 pm: Whoever is party president, is head of the family. I had called him (Navjot Singh Sidhu) and told him that the party is supreme... I have spoken to him on phone and told him let's sit, talk it out and resolve the issue: Punjab CM Charanjit Singh Channi on Sidhu's resignation
01:50 pm: Electricity is the biggest problem. I have seen that it is difficult for many people to live without electricity because they are unable to pay their bills. The consumer of 2 kW is up to 53 lakhs, we have decided that there are consumers up to 2 kWt, it has been decided for them that their dues will be paid by the government. Those whose connections were disconnected for this, reconnect them. There is 1500 fee without any fee, that too the government will pay: Punjab CM
01:49 pm: Very soon we will end sand mafia in Punjab, we are coming with a new policy. We are forming a committee at the block level, the panchayat will help us in this, our committee will get the form filled, whose property bill has come: Punjab CM
01:33 pm: According to reports, Congress leadership is closely monitoring the situation. The Punjab Cabinet is also likely to announce big decision with regards to sacrilegious and drugs mafia to negate the effect of the appointment of AG. Importantly, senior leadership is in no mood to placate Navjot Singh Sidhu and would wait for another 48 hours, sources said.
01:17 pm: "He was chosen over Sunil Jakhar, who worked all his life for Congress. If he (Sidhu) is still not happy, then he can never be happy. Situation in Punjab is a bit disturbing. Gandhi family posed a lot of faith in him and then he did this," says Sukhwinder Singh Kaka Kamboj
01:10 pm: "One man (Navjot Singh Sidhu) leaving/joining the party doesn't affect our prospects to win the election, Congress will form the govt again. What he did is no less than betrayal," says Sukhwinder Singh Kaka Kamboj
01:01 pm: Sidhu will be arriving in Chandigarh from Patiala, where he is expected to meet AICC Observer Harish Chaudhary
12:48 pm: Congress high command will not hold word with Sidhu over his resignation. Sources have said the entire decision will now be taken by CM Channi
12:35 pm: Pawan Goel arrives at Sidhu's house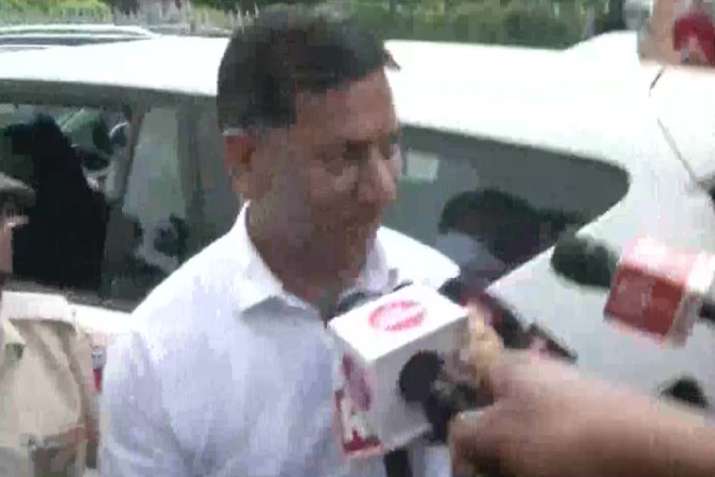 11:47 am: Full Coverage on What Manish Tewari said 
11:25 am: CM Channi holds state cabinet meeting in Chandigarh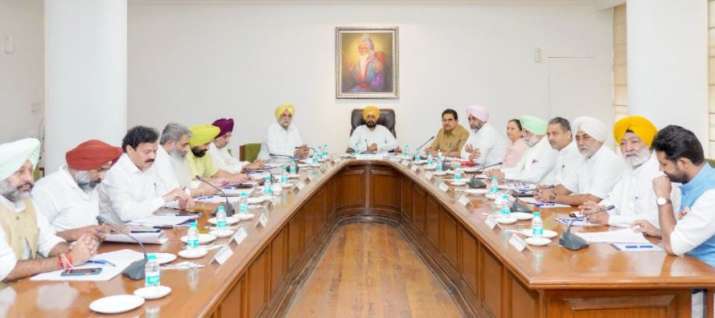 11:19 am: "What Punjab required at this point of time was a safe pair of hands that could keep the ship on an even keel. Unfortunately, people who were charged with the remit of looking at the state did not have a clue about the big picture," says Manish Tewari
11:16 am: "Whatever Capt Singh had predicted is coming true. The concern of a large number of us who see things beyond the cut and thrust of partisan politics is implications that this will have on larger stability of Punjab, given the social turmoil because of farmers' agitation," says Manish Tewari
11:12 am: "Capt Amarinder Singh is an extremely tall leader, he was a close friend of my late father. We've known each other over the decades, therefore, under those circumstances, I think Capt Amarinder Singh is in the best position to articulate for himself," says Manish Tewari
11:09 am: "All I'm saying is, someone who cut his teeth on trench lines on the fight against terrorism in Punjab, personally suffered because of depredations of militants, saw families of Congressmen wiped out in struggle between '80-'95, this kind of instability is extremely disturbing," says Manish Tewari
11:07 am: "The gentleman (Sidhu) can answer for himself. I'm in no position or neither would I like to articulate or second guess a question that can be best addressed by him," says Manish Tewari
11:00 am: Pargat Singh arrives at the state cabinet meeting with Amrinder Singh Raja Warring. They will apprise the cabinet of their conversation with Sidhu 
10:59 am: Full Coverage on Sidhu's Video Message
10:55 am: Sidhu releases video message, says, "will fight till the end"
10:53 am: State cabinet meeting begins; all ministers, except Razia Sultana in attendance
10:39 am: CM Channi to hold press conference at 12:30 pm today
10:37 am: "There's a higher ideal than power, than ministers holding org positions. That higher ideal is ensuring peace, tranquillity and stability of a border state like Punjab. Under those circumstances, what has been playing itself out is extremely unfortunate," says Manish Tewari
10:34 am: "I have just returned from a regional security conference and I can tell you that the only people who are very happy with what is going on in Punjab is the deep state of Pakistan. They feel that they will get an opportunity to fish in troubled waters," says Manish Tewari
10:31 am: "Punjab is a border state, it's going through intense social upheaval primarily because of angst in people against farm laws. Under those circumstances, if such shenanigans played themselves out in public space, it has serious implications on the stability of a border state," says Manish Tewari
10:29 am: "As a Punjab MP, I'm extremely distressed about happenings in Punjab. Peace in Punjab was extremely hard-won. 25,000 people, bulk of them Congressmen, sacrificed themselves to bring peace back to Punjab after fighting extremism and terrorism between 1980-1995," says Manish Tewari
10:25 am: AICC Observer Harish Chaudhary has gone to Chandigarh to resolve the Punjab Congress crisis
10:13 am: CM Channi calls state cabinet meeting at State Secretariat today
09:51 am: Kuljit Singh Nagra and Ravneet Singh Bittu in the race for new PCC chief
09:46 am: Congress high command stands by CM Channi's say on Sidhu's resignation and has begun working to discuss new PCC chief, say sources
09:39 am: CM Channi has been asked to resolve the crisis in Punjab politics, reports India TV's Vijaylaxmi
09:26 am: Harish Rawat not visiting Chandigarh as of now 
09:19 am: Punjab ministers Amarinder Singh Raja Warring and Pargat Singh leave from Navjot Singh Sidhu's Patiala residence after meeting him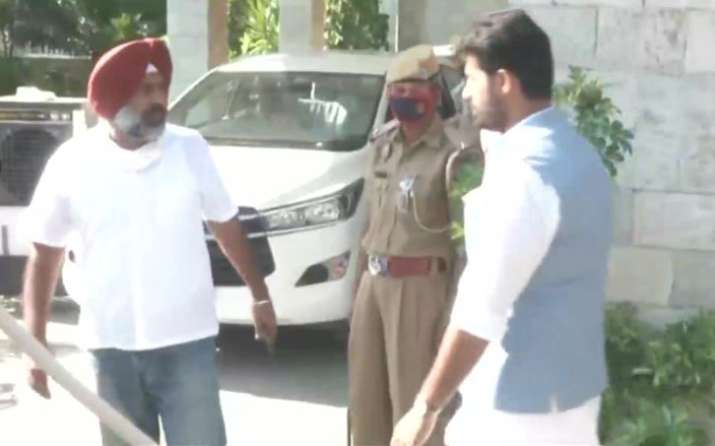 09:01 am: Harish Rawat likely to visit Chandigarh to meet Sidhu, say sources
08:43 am: "I take pledge as CM that I'll discharge my duties with this belief that Sardar Bhagat Singh is watching me," says CM Channi as he pays tributes to freedom fighter Bhagat Singh
08:30 am: "Nothing to worry, everything will be alright," says KC Venugopal over resignations of four Congress leaders following Sidhu's resignation
Also Read | Priyanka Gandhi likely to reach out to Sidhu