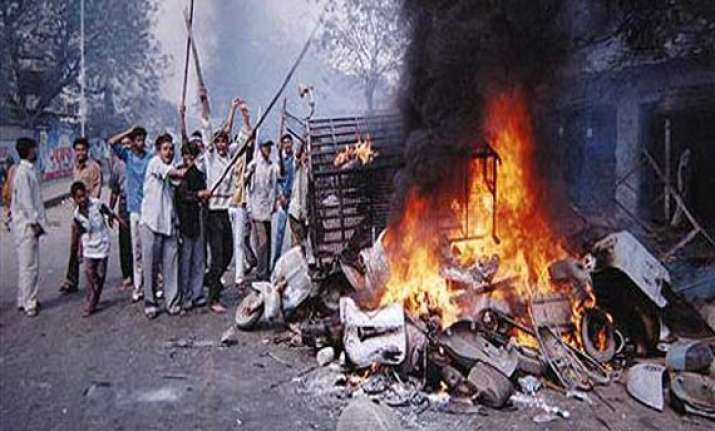 Ahmedabad: Gujarat High Court today issued a notice to the Special Investigation Team (SIT) on a petition filed by four accused in 2002 Naroda Gam riot case, demanding 82 Muslim witnesses to be made accused in this case.
The single judge bench of Justice S G Shah also issued notice to the state government and fixed the next hearing in the case on September 13.
Ashok Patel and three others, out of the total 79 accused, who were facing trial in the Naroda Gam rioting case, in which 11 people were killed, have filed a petition through advocate Hardik Patel demanding 82 Muslim witnesses to be made accused in the case "as they had also committed criminal offences during the riots."
Citing the statements of the 82 witnesses, like Nanumiya Malek, Madina Pathan, Mohammad Hanif Qureshi, Bismillakhan Pathan and Ganibhai Mansuri, the petitioners have claimed that there were recorded testimones of these witnesses in which they have admitted indulging in stone pelting, throwing acid bulbs and bottles.
The petitioners have also asserted that apart from witnesses "confessions" of offences, many state witnesses like police officers, have also testified it.
In the petition they have challenged the order of designated judge of the Naroda Gam case Jyotsna Yagnik, who had earlier rejected the application of the accused persons including former state Minister Maya Kodnani.
On July 1, 2013 designated court has refused to make the witnesses as accused on the ground that the provisions under section 319 of the CrPC, under which the accused had sought the relief, do not provide for making those witnesses accused in the same trial.
79 persons are being tried in this case for the killing of 11 persons in post-Godhra riots in Naroda Gam area of the city.