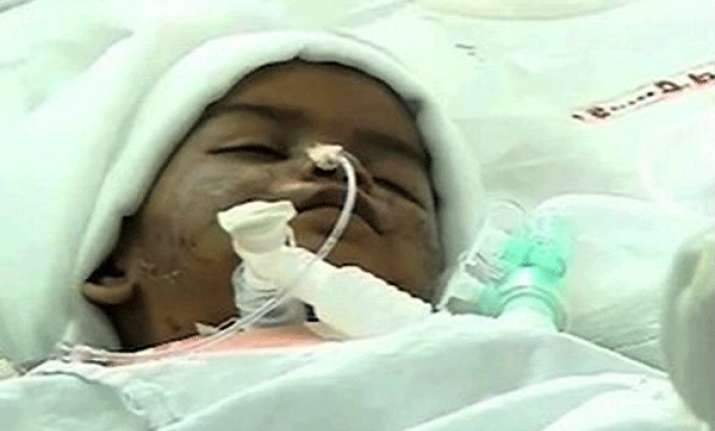 New Delhi, Feb 6: The battered baby case turned murkier with police today claiming that her mother, who has finally been traced, was tricked into a second marriage allegedly by a woman and her three children were handed over to other people.

Two women were arrested following investigations into the case yesterday for their alleged role in tricking the 22-year-old mother of Falak, who was admitted to AIIMS after a teenaged girl battered her, into the marriage.

The arrested have been identified as Laxmi, who allegedly handed over two-year-old Falak to one Rajkumar who kept the girl with his teenaged girlfriend, and Kanta Choudhry who "conspired" with another woman Saroj. The latter is yet to be apprehended.

"We are treating the mother of Falak as a victim and not as an accused. Her three children from the first marriage were handed over to separate persons by the trio. The mother was tricked into a marriage by the accused who assured her that they were taking good care of her children and she could reunite with them if her second husband agrees," Chhaya Sharma, Deputy Commissioner of Police (South), told reporters.

Laxmi managed to persuade the mother to come to Delhi from her residence in Bihar's Muzaffarpur. The mother was fed up with her marriage as her husband is an alleged criminal.

The case which came to light in January last week had its twists and turns with police arresting four persons in a related case. The father of teenager, who brought the child to hospital in a battered condition, was charged with abandoning her while a couple and another women were arrested for forcing her into prostitution.

Falak has been battling for life at the AIIMS hospital, were she was brought on January 18 with severe head injury, both her arms broken, bite marks all over her body and her cheeks branded with hot iron.

The child, who has already undergone two life saving surgeries till now, has shown no signs of improvement and is back on the ventilator.

"She is not breathing properly. That is why we had to put her back on the ventilator on February 4 night. The infection in her body and improper fluid movement are not allowing us to keep her off the ventilator. She is critical but stable," Dr Deepak Agarwal, neurosurgeon with the hospital, said.

Investigators claimed Laxmi allegedly tried to mislead them by telling that the mother had left Falak with her after her husband died.

But this story fell flat after police managed to trace the young mother from Jhunjhunu district in Rajasthan yesterday.

According to police, the mother was tracked by Laxmi, who made a youth make blank calls to her and later the two would converse frequently. Laxmi allegedly then persuaded her come to Delhi.

She was married to one Mohd Shah Husain in 2006 at the age of 16. "The mother was facing problems in her marriage as Husain allegedly has criminal background. Laxmi told her that she will get her married off to somebody else. She came to Delhi with her three children.

"Laxmi told the mother that with children, it will not be possible to get married. She can tell her husband later and if she allows she could get the children back. Laxmi assured her that the children will be looked after properly," a senior police official said.

A woman who called herself a relative of Laxmi approached the young mother and brought her to Delhi. Meanwhile, Laxmi, Kanta and Saroj managed to trace the 25-year-old man who could not get married due to some problems. They arranged the marriage of the youth with the young mother.

"The young woman told her second husband about her first marriage after a few days. That's way the woman did not cheat anybody. Her intentions were good. Actually, both the youth and the young mother were cheated," the official said.

Sharma said a week ago the young woman had spoken to Laxmi over phone during which the latter assured her that her children were looked after well.

Asked whether Laxmi and others were running an adoption racket, she said nothing of that sort has come out yet though they took money from the youth before the marriage.

During investigation, police claimed, it came to light that the man whom the young woman married to was also cheated and misled about her true identity.

"However, having been duped into marriage himself, for fear of social ostracism, he kept quiet and allowed the woman to contact Laxmi," Sharma said.

The woman informed Laxmi that she was now in an awkward position as she had confessed about herself to her husband and was in a dilemma about what to do next. "Laxmi advised her to steal all the valuables from the house of the new groom and come to Delhi, to which the woman did not agree," Sharma said.

The youth who married Falak's mother was cheated to the tune of Rs three lakh.

"The man was not told anything about the children and had taken money on loan from various sources to fulfil demands of the cheats," Sharma said.