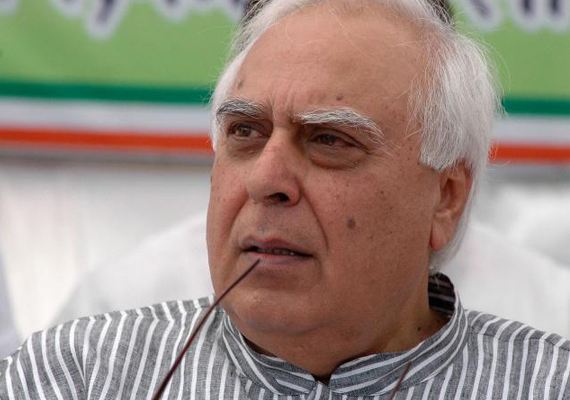 New Delhi, Feb 24: The "unfair, unjust and unequal realities of life" find resonance in Kapil Sibal's second volume of poetry where the Telecom Minister attempts to give a glimpse of his perception of the world through the prism of politics, terror and attitudes of people among other issues.

"My World Within" - a compilation of 67 verses composed by Sibal using his mobile phone during his travels within India and abroad "when enmeshed in the world of politics" was released here late last evening. The book sporting a Picasso print sourced from a Munich museum has been published by Roli Books.

The minister read out, to a select gathering of his close family and friends, a few of his favourite poems including "This is not Cricket," where he uses the game of cricket to explain the vile games that politicians play.

"While in politics one is really exposed to so much outside of oneself not so much within that ultimately all that reflects within you in a sense that impacts within you especially in the world of politics," Sibal said during a discussion that followed the book launch.

After reciting the poem "Retaliate" through which he talks to the terrorist Sibal said it was "sad that in politics the whole discourse on freedom gets hijacked." He says politicians must remember that "their life is temporary, their ministerial seats are temporary and terms in Parliament are temporary."

"While the TV channels think about TRPs, members of Parliament think about what is going to win them the next elections, the bureaucrats think about getting a good job and maintaining it, the poor man is nowhere," said the minister.

Calling terrorism as "the ultimate act of injustice", he suggested all political parties must come together to build a strong counter intelligence network and deal with the issue.

Sibal's new book of poetry ends with a poem on Gandhi.

"Gandhi was quintessentially a man who believed in justice. All forms of justice you never saw him make a choice between one section of society over another," he said.  Sibal also ducked a question on whether he thought there were any Gandhian icons today.

In his poem "The Fissile Left" the minister took potshots at the Left "who cannot see beyond their nose".

Pointing out that the problem with the Left Parties had lost his moorings, Sibal who acknowledged that he was a leftist during his student days said, "At the age of 18 if you are not a Leftist then there is something wrong with you and if after the age of 30 you are still a Leftist then there is something equally wrong with you," he said.

Emphasising on the need to constantly change, he said the poem was a reflection of all ideology which is good if taken as process of tackling contemporary issues but can be self destructive if it becomes static".

"The problem with the Left is that they do not want to move they don't want to change. I am very happy to know that Prakash (Prakash Karat) has said that they must move away and get into a new social field" Sibal said.

"It will be true of for example the Congress Party if they had to stick on to their ideology for the next one century this is true even of the Right wing ideology," said the minister.

The minister made repeated references to Gujarat during the course of the evening.

"..You witness what happened in Gujarat, you witness the terrorist attacks in Mumbai and it shakes you up. In politics you get to know the reality of life, the jockeying and the despair of ordinary people looking for hope and that has a strong impact on how you look at things," Sibal said referring to the inspiration behind the book.

Elaborating further he said, "It has been 12 years since the Gujarat riots and there has not been even a FIR being filed. Take a look at the injustice, look at the treatement of minorites, look at how we are destroying the environment, look at the poverty, the injustice at every level."

Stating that India is a complex country, a polity in transition and in the process of being confronted with complex issues, he says his book reflects "the reality around us." Sibal also pondered about the role of God in his poem "My God" saying "I want God to smile like me" and that "My God is my contemporary."

"We are living in a very unjust world it makes me question that this injsutice this cannot be possibley be the writ of God, this injustice is it has to be the writ of man. We don't have to go to temples and bessech him to do something, he said pointing out "we have to rise up and not wait for God to do something."

When Bollywood lyricist Javed Akthar present during the book launch asked whether Sibal's poem mentioning his anger towards God made him a believer, the minister said he belived that God was a concept that made people live together in harmony. "That is what I believe in" he responded.