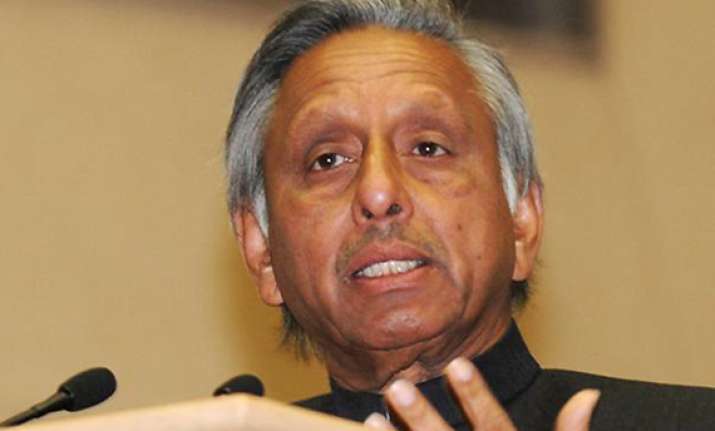 Karachi, Nov 13: Former Union minister Mani Shankar Aiyar on Saturday told a conference here that historiographers, not history, were responsible for dividing India and Pakistan, reports Dawn newspaper.

Speaking at the conference on "Situation in South Asia" at Shaheed Zulfikar Ali Bhutto Institute of Science and Technology, Aiyar said Pakistan was an irreversible historical fact and that "India and Pakistan are like Siamese twins"; they couldn't float away from each other.

He said we could either carry on punching one another or work together towards a common goal.

He said history didn't divide us but historiographers did. It led to the Two-Nation theory which manifested in Pakistan and then into a three-state reality.

Aiyar said there were Muslims shrines in India just as there were Hindu shrines in Pakistan.

He lauded the idea of writing a joint history which was a difficult task. He said, communalised approach to history was dangerous. "We must recognise the diversity of our heritage."

The Congress MP said there were people in the Indian foreign office who were ignorant of and prejudiced against Pakistan — foreign offices of both countries were a problem.

"We must resume restructuring of an uninterrupted and uninterruptible dialogue and prevent hostile elements from not letting the dialogue take place", he added.

He appreciated that the prime minister of India had called Gilani a man of peace.

Aiyar said  two words, asymmetry and non-reciprocity, were key to coming closer — one should be friendlier to the other.

He argued trade between the two had to be dealt with in a sensitive manner rather than bringing down all barriers.

After tracing the centuries' old common history, and after touching upon the phase when Indian leaders (Gandhi, Nehru, etc) suffered inferiority complex vis-à-vis Europeans and then restored self-confidence, he said it was Tagore and Iqbal who started Asian Renaissance in the region.

He said in early 1947 through a conference Nehru wanted Asia to be the centre of the world.

He said if Pakistan had ancestral relations with West Asia and Central Asia, it shouldn't bother India; similarly India also had relations with these regions. But the fact remained that there were more civilisational similarities between India and Pakistan.

Aiyar said Mughals ruled India for hundreds of years and during that time only 24 per cent of the population was Muslim, which clearly indicated that there was no major attempt to forcibly convert Hindus into Muslims.

The Congress MP  said South Asia had survived on the basis of plurality whereas West Asia had survived on the basis of uniformity.

He disagreed with Javed Jabbar who wrote in one his books that there's a Muslim nation in India.

He said sub-identity had to be given recognition. He said we had common civilisation and only when India's hostility got asserted a reaction from Pakistan was witnessed.

Pakistani senator Raza Rabbani discussed Pakistan's present geopolitical situation and reiterated the basic red lines, which were (1) respect for territorial sovereignty (2) issues should be dealt with sovereign equality (3) no boots on ground (4) cessation of drone attacks (5) no pressure from any power on decision-making vis-à-vis national security.