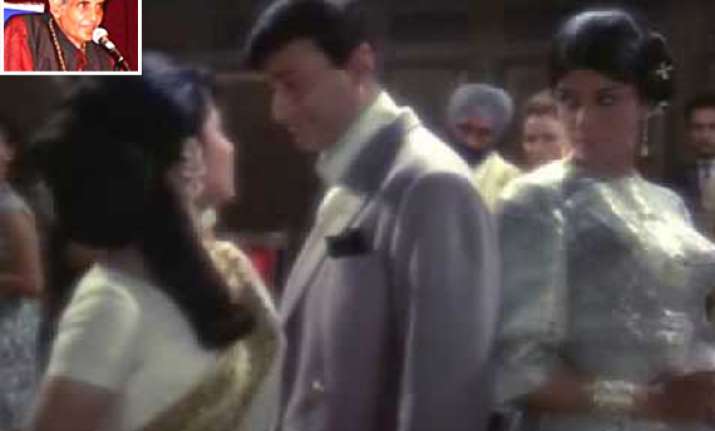 Aligarh, UP, Dec 4 : Tucked in the backlanes of this dusty city of UP, famous for its Muslim University, lives Padmashri Gopaldas Neeraj, the man who wrote 'Ai Mere Watan Ke Logon', the rendition of which by Lata brought tears in the eyes of Pandit Jawaharlal Nehru post-1962 Sino-Indian war debacle.
 
Neeraj today told India TV how Dev Anand came to a kavi sammelan (gathering of poets) in 1967 and heard him render a poem.
 
"Dev Saab promised me he would give me work in a film. When he was making Prem Pujari, Dev Saab asked me to write a song.
 
"I worked the whole night and the next day rendered the lyrics to Dev Saab, who jumped with joy and  hugged me. The song was 'Rangeela Re, Tere Rang Me Yun Ranga Hai Meraa Mannnn"...
 
"From then onwards, it was a continuous journey with Dev Saab, and several songs became superhits like 'Shokhiyon Me Ghola Jaaye Phoolon Ka Shabaab, Usme Phir Milayi Jaye Thodi Si Sharaab', 'Dil Aaj Shayar Hai, Gham Aaj Nagma Hai'..
 
"I wrote the last lyrics for him for the film Chargesheet. Dev Saab always gave breaks to newcomers. His passing away is a great loss for me", says the aged lyricist.