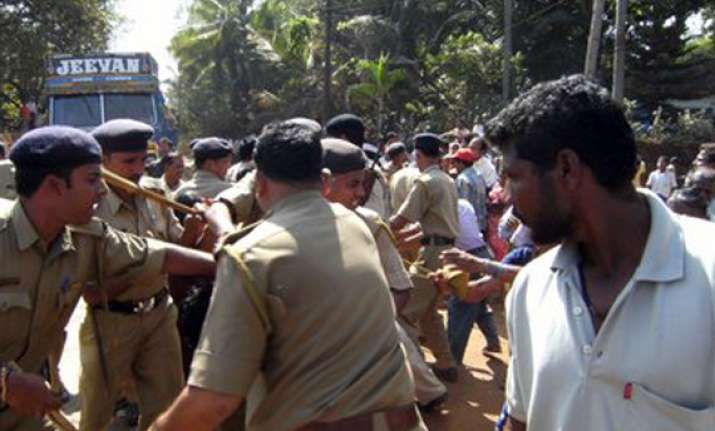 Panaji, Nov 22: A protest march, taken out by people dependent on the mining industry in Goa, took a violent turn this afternoon, when police resorted to cane-charge, allegedly injuring several protesters here. 

People dependent on mining in the mining belt in Goa had organised a protest rally here to demand protection to the iron ore export from the state.

The protest march, which went off in a peaceful manner initially, soon took a violent turn, following a scuffle between the agitators and police.

One of the leaders heading the protest march, Pradip Sawant, claimed that at least hundred protesters were injured in the scuffle that went on for ten minutes on Dayanand Bandodkar Road, adjacent to Mandovi river here. 

Sawant alleged that the cane-charge was not provoked and Deputy Superintendent of Police Deukumar Banaulikar ordered his men to hit the protesters "without any reason".  He further alleged that H Bhingui, the main leader of the agitation, was dragged for almost half a kilometer on the road and was beaten up by the police. 

Superintendent of Police (North) Waman Tari, however, said that the cane-charge was ordered after the mob started pelting stones and bottles on the police. 

Several thousand protesters were gathered in the city today as a part of their scheduled agitation demanding protection to the legal mining business and exports. They have called for Chief Minister Digambar Kamat's intervention over their demands.

The iron ore trade in the state is staring at an uncertain future in the wake of Justice M B Shah Commission inquiry, as its report is expected to be submitted to the Union Mines Ministry in the first week of December. 

According to official figures, last year, Goa exported 54 million metric tonnes of ore, tapped from about 90 mines that are situated along the remote talukas on the state.