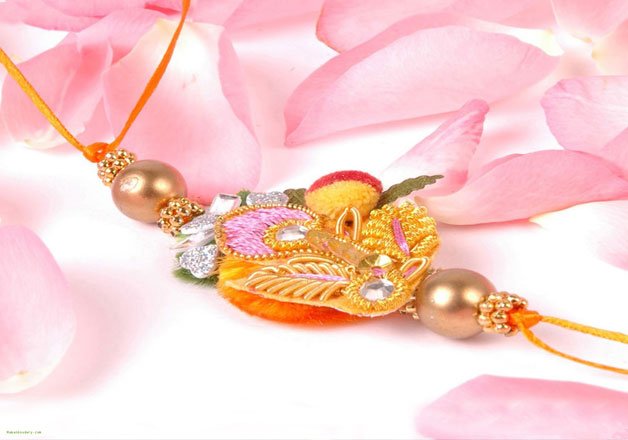 New Delhi: With festival of Rakshabandhan just round the corner, markets are stocked with varieties of 'rakhis' but do-it-yourself options allow people to unleash their creative side.
From a packet of colourful laces, string of beads, ribbons with sequins to little sets of embellishments, pearl stickers, paper and felt shapes and quilling sets with tools, it is possible to mix-match and create as many rakhis as one wants.
Manju, an employee at the Luv India Concept Store in main Janpath market shop here says that decorative pieces of a teddy bear or popular cartoon characters are popular among schoolgirls who use them to make rakhis for school-going brothers.
Other raw materials required include zigzag scissors, paper cutters with various shapes that can be used to provide the base of a rakhi.
"These products range from Rs 75 to Rs 300. Since these sets have enough raw materials, around 10 to 15 rakhis can easily be made. Also if some raw materials remain unused, you can use it for your rakhi next year as well," says Manju.
The shop also has rakhis made out of their own raw materials which cost Rs 95 irrespective of the designs. Himani Upadhyay, a hostler in Delhi says that she prefers handmade rakhis because she can customise it according to the choices of her brothers and when she sends it home in Haldwani, her brothers are over-whelmed to see a new style every year.
"I buy a small set of raw materials which is not too expensive and then I keep the base of rakhi same for both my brothers. For my elder brother, I finish it with a religious symbol or a picture of a God and for my younger brother, I stick his favourite cartoon character," Himani says.
"Once I pasted my picture with my brothers in a zigzag circle form. So they really liked it. Similarly there are various easy ideas one can work upon and in not more than 10 minutes, your customized rakhi will be done," she says.
Sets of cards and envelopes are also available for those who prefer to enclose a message with their rakhis. One can even try a traditional embroidered rakhi this year.
1469 Habitat has designed rakhis with antique Phulkari Bagh embroidery. Phulkari design work is from the Punjab region which literally means flower work. These rakhis cost Rs 500.
For the festival of Raksha Bandhan, the store is offering an off of 20 per cent on all its products.
"It's not only the sisters who can buy embroidered rakhis, but brothers can buy Phulkari kurtas and stolls for their sisters as well. While kurtis are from Rs 1400 onwards, stoles start from Rs 2700 and they all have 20 per cent off," says Gurmeet Kaur of one of the outlets of 1469 Habitat.
For those with a slighter high budget, gold and silver rakhis can also be a good option.
Kalyan Jewellers have introduced gold rakhis which range between Rs 4,000 to Rs 10,000 and are available at showrooms in Delhi, Gurgaon and Noida.
"The bejeweled Rakhis can last a lifetime and the timelessness of these Rakhis adds to the alluring appeal and signifies the long lasting bond between a sister and her brother. The best thing about these Gold Rakhis is that they can be worn as bracelets or lockets too after the festivities are long over," says Ramesh Kalyanaraman, Executive Director, Marketing and Operations, Kalyan Jewellers.
Frazer and Haws have come out with silver rakhis which have symbols of 'Chhota Bheem', 'Ek Omkar', Lord Shiva's third eye, Lord Ram and 'Hari Om'.
Some say they plan to surprise their brothers by tying a classy Baume et Mercier wrist watch instead of a rakhi. Mr Fox, a bespoke luxury label for menswear and accessories, has brought out a collection of wide variety of Pocket Squares and Flat end Ties different fabrics, colours and designs as well as stylish cufflinks to add panache to the wardrobe.
While tying a rakhi, sisters usually give their brothers a sweet to eat. This year instead of chocolates or traditional sweets, one can even opt for various cake boxes. InnerChef has launched the 'Happiness Box' which consists of InnerChef