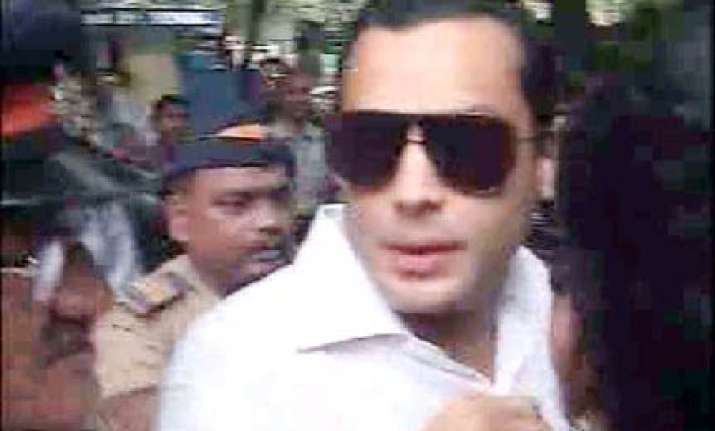 In a reprieve for model Viveka Babajee's 'boyfriend' Gautam Vora, a local court  on Tuesday  restrained the police from arresting him on the charge of abetment to suicide without giving him a 72-hour prior notice.
Principal judge of the sessions court M L Tahaliyani also directed Vora, a stock analyst, to cooperate with the police in the investigation into June 25 suicide of Babajee and present himself at Khar police station to record his statement whenever required.
The court issued the directions on Vora's anticipatory bail application which it disposed of saying it was not maintainable as the police had not yet registered a case of abetment to suicide against him.
Vora, on his part, assured the court of cooperation and said he would not leave the city for a week to help in the investigation.
Counsel for the police R V Kini told the court that the police had no intention of arresting Vora as of now as it was still to form an opinion on whether the model's death was homicide or suicide and if it was suicide whether any abetment was involved.
Pulling up the police for the way it is probing the case, Tahaliyani said the investigation is not going in the right direction. First, the police needs to form an opinion and then start collecting evidence.
Kini told the court that Vora's replies to police's queries during recording of his statement in two sittings since yesterday were vague and that police would need to question him again.  The court had yesterday directed Vora to appear before police to record his statement after he moved an anticipatory bail application apprehending arrest.
 Vora, who found mention in letters and diary of Babajee, a former miss Mauritius and a top fashion model, has denied he was in a relationship with her.
During his questioning, Vora has told the police that the two were just friends and that he wanted to help her get out of depression.
Vora has maintained that Babajee, whom he first met in April this year, was under heavy medication for depression. He said she was mentally under the weather due to a broken relationship and financial problems.
Suspicions about an affair between Vora and Babajee arose when police found a mention of him in the model's diary in which she had written "You killed me, Gautam".  Babajee (37) ended her life on June 25 at her Continental Towers apartment in suburban Bandra by hanging from the ceiling.
In a second round of questioning, police on Tuesday in Mumbai grilled Gautam Vora, a stock analyst and boyfriend of supermodel Viveka Babaji for nearly four hours in connection with her death. 
Gautam arrived at suburban Khar police station at around 0900 hours where he was questioned and his statements were recorded, police said, adding, the questioning continued till 1245 hours.
He was also quizzed on Monday  for over an hour.  During the questioning, Gautam had consistently maintained that Viveka and he were "good friends" and there was nothing more, police sources said. 
37-year-old Babajee killed herself by hanging from the ceiling at her Continental Towers flat in suburban Bandra on June 25.
Three days after the controversial suicide of model Viveka Babajee, investigating officials from the Khar police recorded the statement of Gautam Vora, her boyfriend. Vora, a 32-year-old stockbroker, who was elusive since the 37-year-old model ender her life on Friday, said he was unaware of the reason why his name was mentioned in Babajee's suicide note.
Mid Day published the questions posed to Gautam Vora by police. Arriving with his mother at Khar police station, Madhavi and his aunt, Gautam was asked more than 20 questions. Here are some of them.
How did you know Viveka?
We met each other at a party and kept in touch through the Internet, and soon became good friends.
What was your relationship with her?
We were close friends and nothing more than that.
When did you promise to marry her?
I did not. We were friends and never discussed marriage.
When did you last meet her?
On June 24, she called me and said she was feeling low and that I should come and meet her. So, I went to her house in Bandra.
What was your last conversation with her about?
Viveka said she was depressed and was smoking a lot. When I asked her the reason, she did not reply. I asked her to sleep and told her I would come back later. I was with her for approximately an hour.
Were you aware that she was in depression?
Yes. She used to take medication for it. I helped her to stop taking sleeping pills.
Why is it that she wrote your name in her suicide note?
I have no idea. I am shocked. I liked her a lot but was unaware of her state of mind. Why she mentioned me in her letter, I don't know.
Do you know her family members?
She mentioned her family members but I never met any of them.
Are you aware of any argument she might have had with family members or friends?
No. I am clueless.
Do you know if she suffered any losses in business recently?
She never discussed her business dealings with me.
Why did you go to meet her that night?
As I have mentioned earlier, she called me to her place because she was feeling low and I went.
Had the two of you ever fought with each other?
We hadn't fought, as we just were introduced three months back. We were still getting to know each other.
Had you ever met any of her past boyfriends or did she inform you of any problem she had with any of them?
She had mentioned to me about her past relationships. She had told me about a Karthik but I had never met any of her past boyfriends. She never informed me of any fights. However, she did tell me that she had gone through a rough time when  it came to relationships.
Why didn't you appear before the police before?
I was nervous and was seeking legal advice as a precautionary measure.